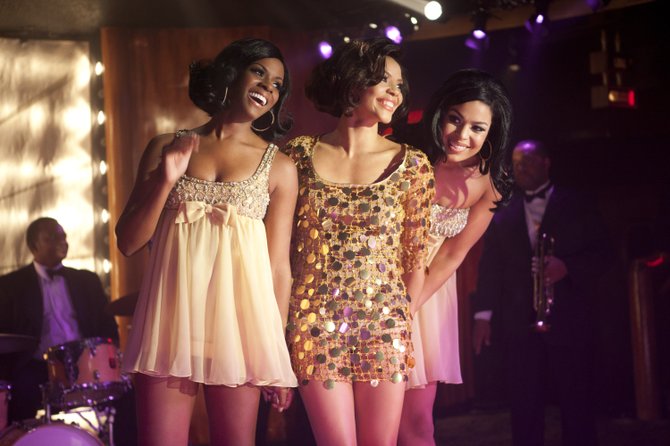 Whitney Houston sparkled her way to the top of the pop charts in the late 1980s. Back in Houston's bright and shiny years (the era of large, prosperous hair and big shoulder pads), her music crossed genres. Her fresh-faced beauty and distinctive mezzo-soprano voice mesmerized audiences. She easily transitioned from a singing sensation to a movie star, taking our breath away in "The Body Guard" and holding her own in "The Preacher's Wife" with Denzel Washington.
But Houston's perfect career unraveled. During the past 25 years, we watched her tumble, then rise again, then stumble and then reinvent herself. We readied ourselves for another comeback. The vehicle was "Sparkle," a remake of Joel Schumacher's 1976 film of the same name. Not only is Houston executive producer, she plays the formidable and overbearing mother of three daughters who all shared their mother's musical talents. While Houston's legacy abruptly ends after "Sparkle," her performance shines, and the movie has captured Houston's cautionary tale: The music business eats people up and, for many, it doesn't end well.
Directed by Salim Akil ("Jumping the Broom") from a screenplay written by Mary Brock Akil, "Sparkle" centers on a middle class matriarchal household in Detroit in 1968, though the civil-rights landscape barely infiltrates this musical melodrama. Rather, this film keeps on a linear progression of girl group on the rise, then the fall, and then the rise again. (Sound familiar?) Dad's gone. We don't know where he is, and no one seems to miss him. Emma (Houston) is tough enough to be both parents for her three daughters. Sister (Carmen Ejogo) is the oldest, nearly 30 and not married. She's returned home after a short-lived attempt at singing in a bigger venue. Dee (Tika Sumpter) doesn't care that much about singing, because her dream is to attend medical school. Sparkle ("American Idol" winner Jordin Sparks) tries to be her mamma's best girl, but she refuses to obey her mother and give up music. Sparkle is a natural songwriter, filling pages and pages of notebooks with fabulous prose. She'd love to one day be able to sing her songs, but she's in Sister's shadow and hasn't yet built up her confidence and chops. The mother's smothering, however, doesn't stop Sister and Sparkle from sneaking out of the house at night so that Sister can perform Sparkle's ditties in local clubs.
The opening scenes of this film are sumptuous. Ejogo takes full possession of the show-stealing character Sister. The camera just soaks up her performance, and everyone else fades in the background. (Don't be surprised if Ejogo gets nominated for an Oscar in the Best Supporting Actress category).
Sister's act and Sparkle's songs catch the eye of a young entrepreneur named Stix (Derek Luke), who has a nose for music and the hustle and flow to make it pay off. Stix, with some help from his cousin Levi (Omari Hardwick), help Sister, Sparkle and Dee form a girl group, and gets them on a televised show, where they become overnight celebrities. The girls' growing fame leads to the disintegration of the family.
Sister moves out and marries a slick and sleazy comedian named Satin (Mike Epps), who gets her hooked on cocaine and beats her during fits of rage. Sister's life models her mother's own tragic story. The only singer left in the group is Sparkle. Over her mother's objections and without any family support, Sparkle pursues her dream.
"Sparkle" is an uneven crowd pleaser. It looks great on-screen. But it also often sags when it should sizzle, lags when it should energize and plays only in the safe zone. It mixes and matches a montage of other musically based films, such as "Dreamgirls," and other girl groups, like Diana Ross and the Supremes. The freshest moments are the vocal performances, particularly Houston signing "His Eye is on the Sparrow" during a church service and Spark's full-out performance when she strikes it out on her own.
I saw the film with a predominantly female audience, and I treasure the experience. The best part was when the audience sang along with music. Sparks were flying then.
More like this story