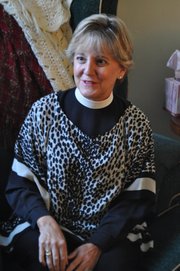 When she sent a letter to 150 people a few months ago, the Rev. Molly MacWade was unsure of the responses she would get. "Oh please Lord, help people respond," MacWade prayed. Her letter requested assistance for the upcoming annual Grace House fundraiser.
Her prayer worked. From that letter, MacWade raised enough money to fully pay for the fundraiser expenses, so that all of its proceeds can go to Grace House.
Almost 20 years ago, MacWade and a group from St. Andrew's Cathedral started Grace House. With the help of the community, the project was a success.
"We saw the need for a place for people living with AIDS. Back then the medicines were not as good as they are now, so we had a lot of sick people here," MacWade says.
"Now people are living full lives."
Grace House is having its annual fundraiser, "Saving Grace" on Thursday, Aug. 23, at St. James Episcopal Church. It features an assortment of live music, food and drinks. The funds raised will go toward renovating the home's kitchen and dining area. "There's always a need to improve the houses themselves," MacWade says. Right now, they don't have a large enough space for everyone to meet or share a meal.
Grace House is actually made up of seven homes in Jackson. The main one, affectionately dubbed the Big House, houses seven people. In all, Grace House has about 35 residents. "It's really a blessing. We've grown a lot," MacWade says.
She refers to the organization as a transitional ministry. It provides a place for homeless or about to be homeless people who are HIV-positive or have AIDS to live until they save enough money to sustain themselves. Residents must have a job or be looking for one. Some are in GED programs or are pursuing college degrees.
There is no minimum or maximum amount of time that the residents can stay because people come in from all levels of need. "Before the drugs were better developed, people were living here a lot longer," MacWade says. "Now the drugs are allowing them to feel better and to get better, and that's when they can get to the next step of getting a job and saving some money."
Most people who come in are in dire need of support. "We give them that here. We give them a sense of community and belonging and hopefulness," she says. Residents come from a variety of situations: Some have been recently released from prison and have nowhere to go to; some have families who rejected them because of the HIV. "Once they get here, they know that they're not alone," MacWade says.
Lots of individuals, churches and organizations have always come forward to help. "It's a community-supported non-profit ministry. It's not just one organization," MacWade says.
Volunteer social workers and counselors help out at the House. Each resident is able to participate in groups such as Alcoholics Anonymous, life-skills programs and support groups. Grace House also has programs for those out in the community living with HIV/AIDS who still need support. In addition, it has an educational outreach program to teach and inform the community about the virus. "HIV/AIDS affects all of us ... and can affect anybody," MacWade says, and that is what they teach.
This year, Grace House residents started a community garden, which was in the planning stage for a couple years. "It feeds their souls and feeds their need to contribute to Grace House," MacWade says. "And it feeds them."
MacWade says that the volunteers on the board of directors are involved in all aspects of Grace House life. "It's just as much of a blessing for the volunteers who work here and the staff members who work here as it is for people who live here," she says. Bill Love, the chairman, has been on the board for 20 years. MacWade refers to him as "the heart of this place."
Grace House is unique in central Mississippi. "It's a blessing that we're here, but there's always a waiting list," MacWade says.
Last year's "Saving Grace" event brought in around 550 people, and MacWade is hoping for 600 this year. Sugar Magnolia Takery donated all the food, including tapas such as shrimp etouffee, cheese and red ribbon-decorated cookies. Silver Leaf Wine and Spirits and Southern Beverage will provide the drinks.
This year's event is hosted by Bill Ellison and Othor Cain.The music line-up for "Saving Grace," organized by Raphael Semmes, includes Swing de Paris; the Grace House Choir, featuring singers from Grace House and Safe Harbour Family Church; James Martin; Dr. Russell Thomas; Fred Knobloch and Fingers Taylor; and Latinismo, in that order.
"Saving Grace" is 5-9 p.m. Thursday, Aug. 23, at St. James Episcopal Church (3921 Oak Ridge Drive, 601-982-4880). Admission is $35. Call Grace House (601-353-1038) or the Rev. Molly MacWade (601-540-8447) for advance tickets, or purchase them at the door.
More like this story