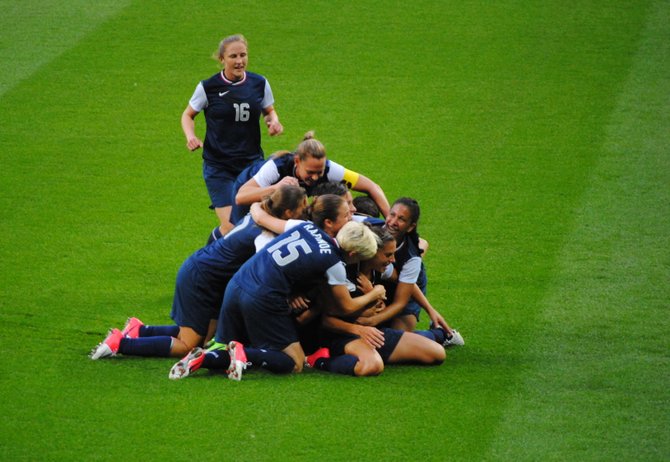 With the closing ceremonies of the London Olympic games, finally the twitter complaints about tape delays and spoilers can end. Hopefully, by the 2016 games in Rio de Janeiro, the problems that upset people during these games will be ironed out.
There is one thing that I believe we should talk about before closing the book on the London games. It seems fitting that the Olympics fell in the same year as the 40th anniversary of Title IX, because American women showed out in London.
In nearly every sport, the U.S. women out-performed their male counterparts. The United States led the world with 104 medals, and U.S. women won 57 of them.
If the U.S. ladies were their own country, they would have finished in fifth place for total medals. Their 28 gold medals would have ranked them better than every country but three—U.S., China and Great Britain).
The U.S. set eight world or Olympic records in London; American women set seven of those records.
Want more proof of the ladies' dominance in London?
The United States has won more medals in boxing than any other nation. This year, for the first time, the U.S. men failed to win a medal in the sport (with the exception of the boycotted 1980 Moscow Olympics). London was the first time women's boxing was on the agenda, and U.S. women won two medals. Claressa Shields won gold in the women's middleweight division and Marlen Esparza won a bronze medal in the women's flyweight division.
The U.S. men made more Olympic history of the bad kind. In the 400-meter dash, the U.S. had won at least one medal in every Olympics since 1920 and won the gold in the last seven Olympics. An American man had made the finals in the 400 in every Olympic Games (except for the 1980 Moscow games). No American man made the finals in the 400 in London. The U.S. women picked up the slack again as Sanya Richards-Ross won gold, and DeeDee Trotter won bronze in the women's 400.
I haven't figured out who should get the mixed-doubles bronze medal: the men, the women or equally for both genders. No matter how you split that particular bronze medal, the fact remains that the U.S. would have not finished in the medal standings without the ladies doing a lot of the heavy lifting.
Forty years later, it only seems fitting that the rest of the world see how far Title IX has taken American women with their stellar performances at the London Olympics.
Congratulations to the United States women for your efforts in London.
More like this story
More stories by this author