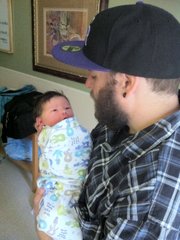 On July 24 at 2:57 p.m., my brother, Jesse, and his wife, Natalie, welcomed their first child, Miles Jackson Lee, into the world at 8 pounds, 1 ounce and 20.25 inches. Most impressively, Miles emerged with a full head of spiky, dark hair that inspired betting pools on when his beard would grow in. I was surprised not to see a Don Johnson 5 o'clock shadow by his second day.
Over the past few years, Catherine and I have watched more and more of our friends and family have children. In fact, we are part of a committee of godparents to our best friends' twins. Since we don't have kids, our role is to be the godparents who don't know any better. That means Eazy-E T-shirts for Christmas and Jordans for birthdays.
It's a whole new trip, though, to know that my brother has a child and that, genetically speaking, I could have some influence on him—hopefully not too much. But what I can offer up is some tunes, as you probably could have guessed. So, here is a list of songs for me to enjoy with Miles.
Wu Tang Clan - "C.R.E.A.M." from "Enter the Wu-Tang (36 Chambers)." When I held Miles for the first time, the first thing we discussed was the members of the Wu-Tang Clan. If you are going to be a Lee, there's certain things you need to know, and Wu-Tang is one of them. In "C.R.E.A.M." (Cash Rules Everything Around Me), Inspectah Deck and Raekwon offer up cautionary tales of life in the streets, especially starting that life out at too young an age. In one of my favorite all-time Wu lines, Deck says, "Life as a shorty shouldn't be so rough." Miles, that is some of the best advice you will hear. Live your life, and remember that being young is the best. No need to rush things.
Arrested Development - "Children Play With Earth" from "3 Years, 5 Months & 2 Days in the Life Of..." Speaking of being a kid, 1990s alternative hip-hop darlings Arrested Development offer their own advice: "Children/Play in the fields/Play in the grass/Climb Mr. Tree/Get to know each branch/Give it a name/For the branches resemble the many decisions you will have to make in life." Couldn't have said it better myself.
Miles Davis - "He Loved Him Madly" from "Get Up With It." When Miles is old enough to understand who he shares a name with, we'll listen to the classics. When he is a little older, we'll cover the weird stuff. For now, we will listen to this 30-minute-plus, chilled-out jazz workout that touches on many aspects of Davis' career.
De La Soul - "The Magic Number" from "3 Feet High and Rising." This classic De La song is centered on a sample of the Schoolhouse Rock! Math song "Three Is a Magic Number." This song is for the new family of three: "But odd as it may be /Without my 1 and 2 where would there be/My 3." With the arrival of Miles, Jesse and Natalie went from a two-person unit to a three-person team. And that's the magic number.
Widespread Panic with Dottie Peoples and the People's Choice Choir - "Tall Boy>Testify" from June 22, 2002. In a life of traveling together to see music, this is probably one of mine and Jesse's favorite moments. At the first Bonnaroo Music Festival way back when, it was enough that the boys played "Tallboy," Jesse's favorite Panic song. They took it up a notch by bringing gospel legend Dottie Peoples and her choir on stage to accompany Panic on the song, most notably on the refrain: "We're gonna summon the Holy Ghost from the battlefield/And in the morning this old world won't be the same." Then they all transitioned into People's "Testify."
It is interesting to think about how we're going to tell our kids, or if we even should, about following around hippie bands and going to weekend-long camp-out festivals. But either way, Miles, I hope you will have a life full of moments of happiness like this that your pops and I shared on so many occasions.
We'll explain it to you when you turn 35.
More like this story
More stories by this author
Like independent media outlets around the world, the Jackson Free Press works hard to produce important content on a limited budget. We'd love your help! Become a JFP VIP member today and/or donate to our journalism fund. Thanks for considering a JFP VIP membership or one-time support.