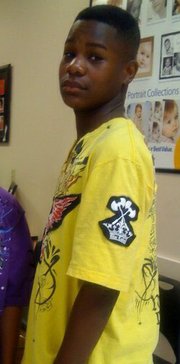 JACKSON — Cedric Ratliff, 25, surrendered today for his involvement in the shooting death of 15-year-old Edward Evans Jr. in July. A Jackson Police Department news release said an arrest warrant for Ratliff was issued on Aug. 7. This morning, Ratliff turned himself in to marshals at the downtown bus station. He faces murder charges.
Police had been investigating Evans' death since his body was found behind a house at 1604 Barrett Avenue. The property is next door to Ratliff's home and four houses away from the home where Evans' grandmother lives.
In an interview with the Jackson Free Press last week, Evans' father, Edward Evans Sr., said he'd spoken with Ratliff about his son's death after rumors swirled in the neighborhood that Ratliff believed someone was breaking into his home and fired his gun into his backyard.
Evans Sr. said Ratliff didn't know he'd hit anyone and that Ratliff was like an older brother to Edward. Evans Sr. said he isn't angry at Ratliff, but believes the man should have been arrested.
"It was a murder. I don't believe it was intentional but it could have been the mayor back there...You can't go into your backyard and just start shooting," Evans Sr. said last week. However, he added: "If Edward knew who killed him, he wouldn't even be mad."
More like this story