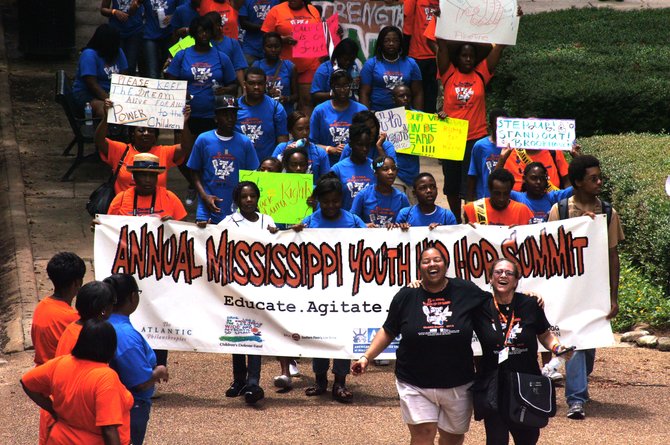 JACKSON — In a second-floor classroom at Millsaps College, instructor Jason Thompson asked a room full of teenaged boys to jot the names of their favorite rappers on large sheets of white paper that covered the tables.
The group of 13- to 17-year-olds excitedly scribbled names such as Boosie, Rick Ross, 
2 Chainz, Future, Yo Gotti and Lil Wayne. But this exercise wasn't intended to be hip-hop's answer to the white peoples' Sammy Hagar vs. David Lee Roth debate. Rather, Thompson, who also goes by the MC moniker of PyInfamous, used the lists to spur a conversation about how musicians talk about women in their lyrics. (For the record, the consensus was that Wayne "dogs" women, while Rick Ross "treats them like a boss," holding women in higher esteem than his hip-hop cohort.)
The session was one of the workshops offered during the 5th Annual Mississippi Hip Hop Summit, which concluded July 22 with a march from Millsaps to the Capitol. Other workshops focused on statewide justice organizing, student journalism, relationship violence and constitutional rights.
Nancy Kohsin-Kintigh, program director for the Mississippi ACLU, said the summit drew 400 young people and 200 parents, many from far-flung regions of the state such as Grenada. Carthage, Pass Christian and Biloxi.
Seven years ago, the ACLU started receiving calls from frantic parents whose kids were being suspended and kicked out of school--and in some cases, arrested--for normal teenage behavior, Kohsin-Kintigh said.
Realizing that it would be impossible to advocate individually for every child, the ACLU initiated trainings for kids and parents, and eventually convened the first Hip Hop Summit. One strategy involved teaching students to "parent up" when called into an administrator's office, especially if law enforcement officials are present.
"We've gone overboard," Kohsin-Kintigh said. "Administrators have taken zero-tolerance policies to whole new level."
Through hip-hop, an art form rooted in storytelling, youth learn how to craft and disseminate their own messages. Students also developed a 10-point Student Bill of Rights (see jfp.ms/sbr) that demands have equality, respect, safety and access to information for young people.
In many ways, the message from Jackson-area youth in 2012 seems to be: "We're fired up and not taking it no more." Indeed, youth activism has been on full display in recent months, as a series of national and local incidents have spurred young people to fight back.
In March, hundreds of protesters, including many youths, rallied for justice in the shooting death of Trayvon Martin, a 17-year-old young man from Sanford, Fla. Protesters carried signs that read "I am Trayvon Martin" and "No Justice, No Peace," a chant that roared from the crowd more than once during the gathering.
On Monday, Aug. 6, youth staged a protest before a public hearing took place on a proposed county-wide ordinance to ban sagging, the popular fashion of wearing pants low. David Denney, an ACLU youth advocacy coordinator, said the law would mostly affect young African American males and "criminalizes normal behavior."
The state already spends millions of dollars to lock up kids. In 2007, Mississippi incarcerated 219 youth at a cost of $426.51 a day each, or $93,405.69 a day for all of them, according to Children's Defense Fund America's Cradle to Prison Pipeline Report. That comes to more than $34 million Mississippi spent in 2007 alone to incarcerate kids. Nationwide, states spent about $5.7 billion in 2007 to imprison 64,558 youth committed to residential facilities, the report states.
Aasif Muhammad, who spoke against the sag ban at a public hearing Monday, worried that the ordinance would allow law enforcement officers to treat him like a thug, despite the fact that he is an honor roll student.
Nafiah Muhammad, Aasif's sister, said clothing is a form of expression and told supervisors that people should be left alone to be who they are.
"They'll make mistakes but you're supposed to let them make their mistakes and learn from it--and if you don't like it, deal with it," she said.
More like this story