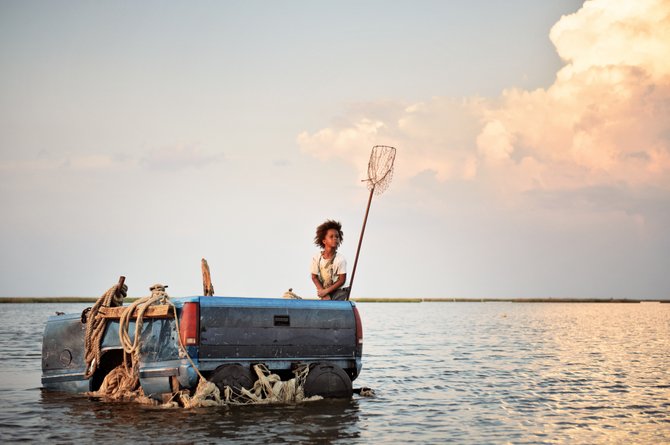 "Beasts of the Southern Wild" has been widely acclaimed as a cinematic breath of fresh air, combining originality and stark beauty with a spitfire heroine who holds her own against the forces of the nature that disturb the perfect balance of her 6-year-old world. This small gem--both in scope of story and size of heroine--turned on the crowds and critics at Sundance and the Cannes film festivals. 
If the movie's scenery looks familiar, it should. With mounds of crawfish, low-lying bayous and a festive juggernaut of scraggly survivors living out hurricanes below sea level, it can be no other place than Louisiana, our kissing cousin across the levee.
The story is set in the town of Bathtub, where nearly everything and everyone is waterlogged, rusty and starving, except the human spirit, which continues to dream and hope. Hushpuppy (Quvenzhane Wallis) and her daddy, Wink (Dwight Henry), live in separate shanties. When Wink, typically liquored up, gets tired of Hushpuppy's energy and inquisitiveness, he tells her to go to her house. It's unnerving that a small child has so much independence. Family togetherness is reserved for "feed up time," when Wink rings a bell, and Hushpuppy comes to his house for chicken on the grill. 
Wink may not be book smart, but he knows a lot about life and living. He teaches his young daughter how to survive. Survival means living off the water, catching catfish with a bare hand and eluding well-meaning rescue teams from the shelters. Wink's methods are unorthodox, but he's dying from a blood disease and has to escalate the life lessons.
"My only purpose in life is to teach (Hushpuppy) how to make it," he says.
The emotional dynamic between the actors portraying father and daughter, Henry and Wallis, overwhelmed me. We see the characters as we see ourselves, filled with weaknesses and failures, but also strengths and unbreakable bonds. 
But Hushpuppy is still a child, confusing fantasy and fact. She often stands on the dock and shouts for her mommy. Hushpuppy's mother deserted the family when she was young, leaving only an old Chicago Bulls jersey and a room of junk. When her daddy gets sick, Hushpuppy copes through make-believe. Her sadness and fear conjure up images of ancient beasts thawing out from arctic ice and racing to destroy Bathtub and her family. Hushpuppy tells us: "The whole universe depends on everything fitting together just right. If one piece busts, even the smallest piece ... the whole universe will get busted."
Director Behn Zeitlin and his co-writing partner Lucy Alibar have made a profoundly moving film about a child losing her only parent. The concept of our shared humanity centers the film. The edges of bittersweet experience are not watered down but distilled to a natural simplicity, at times sentimental, but at its best, visceral. 
Zeitlin choose to use handheld, shaky-cam photography to tell the story. It gives the film some grit, although some have been critical of the roughness of the motion. But it is Zeitlin's feeling for the beauty within a disintegrating way of life that makes it convincing. The gentle revelation that emerges from the mud and turbulent waters of "Beasts of the Southern Wild" is that love and joy can thrive anywhere.
More like this story