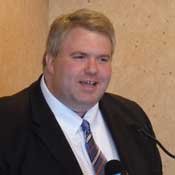 Plans for a multi-billion dollar coal-fired power plant are back on. This week, the Public Service Commission, which oversees electric utility companies in the state, voted 2-1 along party lines, to re-approve Mississippi Power Co.'s plant now under construction in Kemper County.
Commissioners had to formally give the plant the go-ahead after the Mississippi Supreme Court ruled unanimously that the PSC didn't justify its rationale for lifting the plant's cost cap to $2.88 billion from $2.4 billion last year.
Northern District Commission Brandon Presley, a Democrat, has been the lone dissenting voice on the PSC against the plant. Mississippi Power customers are fronting the cash probably in the form of a 45-percent rate hike. Republican commissioners Lynn Posey of the Central District, and Leonard Bentz of the Southern District voted for the plant.
Mississippi Power and its parent company, Atlanta-based Southern Co., say the integrated gasification combined cycle (ICGG) power station is environmentally friendlier than traditional coal plants.
The plant's detractors, however, have long contended that the Kemper coal plant, fueled by lignite coal mined nearby, is neither the cheapest nor most environmentally sustainable option for meeting energy demand in the state.
Coal foes argue that with natural gas prices hitting record lows and new, albeit controversial, ways of extracting gas trapped from geological formations, power producers should look to abandon dirty coal plants. Natural gas fell below $2 per 1,000 cubic feet for the first time in a decade last week,
Presley made a similar argument against the plant. "Reopening the record for further evidence with regard to issues such as natural gas prices, construction cost overruns, environmental regulation risks, advances in demand side management and energy efficiency measure, the progress of TRIG (transport integrated gasification) technology in China...and the impact of the Commission's decision on the Daniel scrubbers issue would to be the more appropriate response," Presley said in his dissent.
More like this story