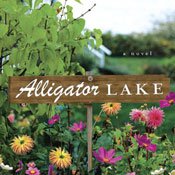 "Alligator Lake" (NAL Trade, 2002, $15) is another in a string of roughly historic race novels by white people that claims to be another "The Help." I wasn't prepared to like Colorado nursing professor Lynne Bryant's novel about another white woman coming back home to Mississippi to confront our demons. But the book—about race conflicts in the 1980s—deals with mixed-race love and the response to it in a smart and revealing way.
The main character is a white woman who left Mississippi after getting pregnant by the black man she loved. Her daughter, Celi, is a remarkable young woman suffering from sickle-cell anemia, and ultimately is the catalyst that brings a broken family back together. And there is a kick-ass grandmother who has helped her black best friend fight for her rights for years to balance out the racist jerks.
Once I got into it (and got past the additional paragraphs at the end of each chapter that told me what she so effectively had just shown me), I couldn't put this book down. I found it much more complex, realistic and educational than "The Help," show-v.-tell issues aside.
Bryant signs and reads "Alligator Lake" Wednesday, April 11, starting at 5 p.m. at Lemuria Books (202 Banner Hall, 601-366-7619).
More like this story
More stories by this author