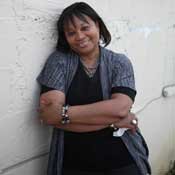 Sept. 23, 2011
Despite the fact that 34-year-old Andrew Black works as a bagger at McDade's Market, he slept in Poindexter Park last night because he has been unable to find affordable housing.
Black says he has been homeless for about a month and frequently stays in hotel rooms in the city. He came to the city of Jackson's "Paving the Road to Self-Sufficiency" homeless conference this morning, hoping to find information on affordable housing.
"I came here to try and get up out of this," Black said. "I'm homeless right now but I really don't need to be."
Today's conference at Galloway United Methodist Church provides resources for homeless individuals as well as an opportunity for them to connect with agencies and nonprofits that provide drug rehabilitation services, affordable housing, health care and transitional programs. More than 60 people attended the conference. The conference is the last event for the city's Project Homeless Connect Week, a series of events and services devoted to the city's homeless population.
Jackson Homeless Program Coordinator Cathy Funches said the conference is focusing on helping homeless individuals advocate for their own needs, instead of agencies telling them what they need to do.
"The goal is to connect the homeless with the various agencies, but I think for so long we have just given and not had a lot of expectations. I think that if we are going to get them to a place where they need to be, there has to be a shift in the mindset. ... I think from an agency standpoint we have to ask ourselves, are we enabling or are we helping them get to where they need to be?"
Funches said that earlier this week during a service fair, 34 homeless men and women signed up to receive birth certificates, and several others were in need of identification. After hearing about those needs, Christ United Methodist Church and Precision Health Care Services donated money to help Stewpot Community Services purchase the birth certificates and identification. Funches said small things like obtaining proper identification can be barriers for individuals trying to escape homelessness.
This morning's conference featured a presentation from LaMarr Coleman and Bettye H. Tyler of Alcohol Services Center, a drug rehabilitation organization that services the city's homeless population. Coleman said that the organization assisted 200,000 people last year, and the majority of those people were suffering with prescription drug addictions.
A strong social support system is necessary for helping individuals escape homelessness, Tyler said. Agencies must also be careful in how they respond to individuals who relapse into drug abuse because addicts often relapse a few times before a full recovery.
"Often times, relapse is a stigma associated with failure in recovery," Tyler said.
The conference continues this afternoon with presentations on housing and gaps in services.
Previous Comments
ID

165054

Comment

Great piece, Lacey. I would like to say though that it has been my experience that there is a TON OF AFFORDABLE HOUSING--IN THIS VERY MARKET--AN UNBELIEVABLE AMOUNT--just SITTING THERE, ROTTING--because the red tape involved for people trying to acquire it is truly insurmountable. Seriously. We helped an individual find a house--and she was UBER-qualified for all manner of assistance, etc--but between me, my lawyer husband, a real estate agent, another attorney and a banker WHO HAD JUST RETURNED FROM LEARNING ALL THE LATEST REGS on these programs--it took us almost TWO YEARS of non-stop effort to finally get that house. The individual had to start COMPLETELY OVER more than once--on the same house--because of some ridiculous nitsh*t that didn't change anything. It was THE most maddening experience of all of our collective lives--mitigated only by the fact that WE WON--WE FINALLY GOT THE FREAKING HOUSE, despite the Government's most CONCERTED efforts to the contrary! (Not that anybody involved was actually trying to keep her from buying it--it's just that the rules and regs make it impossible--nobody can qualify because nobody really knows What Is Required.) My friend had a whole TEAM of people working with her--99.9% of the folks trying to acquire these houses don't have anybody to help them--and believe me, it took every single one of us. The HUD PROGRAM is the most frustrating thing I have ever encountered--we could put SOOOO MANY PEOPLE in great houses, in great neighborhoods--if this process could be simplified. Even the HUD people couldn't make it work and it's THEIR program! My friend only ended up with this house because we all just dug in and REFUSED to give up and as I said, it took TWO YEARS and an ARMY. Here's just ONE of the great aspects: You find a HUD house, and, for the sake of discussion, let's just say you only have to bid on it ONCE to actually start moving toward closing. Ok, BEFORE closing, they will require that "X" repairs be completed on the house in order for your loan to be approved. BUT--you can have NO help from anybody who is not in your immediate family and even they cannot give you money. If you have enough money to pay for the repairs, you don't qualify to get the house. So,somehow, you are expected to find a QUALIFIED, CERTIFIED CONTRACTOR (a requirement--you can't just fix it yourself) to make the repairs--without PAYING HIM on completion of the work. You can't pay him until after you close--because if you've got the money to do that--YOU DON'T QUALIFY. Oh, and NOBODY can tell you DEFINITELY WHICH repairs MUST be done--and to what standard. Nobody knows--not the appraiser, not the bank, not the HUD folks--you just make your best guess/effort and hope for the best when the inspector comes. This is why so many good HUD houses end up being sold to investors as rental property--Actual People have very little hope of navigating the maze.

Author

JILLCONNERBROWNE

Date

2011-09-23T14:50:21-06:00
More like this story
More stories by this author