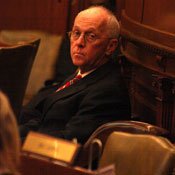 Sept. 22, 2011
This morning, legislators tried to calm fears about upcoming recommendations from the Public Employees' Retirement System Study Commission, saying they would not be in favor of ending the "13th check," or cost of living adjustments for state retirees.
The Joint Legislative Budget Committee met at the Woolfolk Building today to hear budget requests from state agencies for fiscal year 2013, but its members also discussed a commission formed earlier this month by Gov. Haley Barbour to study the Public Employees' Retirement System.
During a budget presentation by PERS executive director Pat Robertson this morning, several legislators expressed concern about what recommendations the study commission might make about the "13th check," or the amount retirees receive in a cost of living adjustment.
The "13th check" is money state retirees get each year to account for the rising cost of living. It is called the 13th check because it used to be paid out in a lump sum each year, although retirees can now collect it along with their monthly check. Robertson said the 13th check is intended to maintain an individual's purchasing power once he or she retires.
Sen. Billy Hewes, R-Gulfport, said he doesn't think anyone wants to change the cost of living adjustment.
"Hopefully after this discussion we can put to rest the fear mongering about the 13th check," he said.
Rep. Cecil Brown, D-Jackson, said he doesn't know why the governor thought a study committee was necessary, but employees have a right to be concerned about the future of their benefits plan. Brown said former Rep. Steven Palazzo, R-Biloxi, introduced a bill in a recent session that would have reduced the 13th check, and other states have reduced funding for retirees.
"I don't think it's panic; I don't think it's fear mongering," Brown said. "... I think (employees) have every right to be concerned."
Sen. Dean Kirby, R-Pearl, a non-voting member of the study commission, said that at the last commission meeting, Chairman George Schloegel said commissioners have no intention of changing anything about the 13th check.
"I look forward to seeing the recommendations," Kirby said. "Recommendations--that's all it is."
The budget committee voted unanimously to say they would not support any changes to the 13th check.
When Hewes questioned the program's sustainability, Robertson said PERS is sustainable, with more than $20 billion in assets to keep the system stable. The biggest cost contributing to the problems the system faces today, she said, stems from legislation passed more than a decade ago.
"Benefit increases were given in 1999 that I would argue weren't sustainable," she said. "... We bought benefits on credit."
The PERS Study Commission will present its recommendations Nov. 15. A statement from Gov. Barbour said the commission will analyze the program's structure and recommend improvements to keep PERS solvent. In a letter to Lt. Gov. Phil Bryant, Schloegel said the commission will most likely analyze whether the returns PERS expects to get on its investments are realistic in the current economic climate.
PERS provides benefits for almost 83,000 retirees--more than double the number of employees paid by the state. Those retirees get an average annual pension benefit of about $19,000 each.
CORRECTION APPENDED: A previous version of this story stated that PERS has more than $20 million in assets. The correct amount is $20 billion. We apologize for the error.
Previous Comments
ID

165025

Comment

In my America, a contract is a contract is a contract! If PEER changes are to be considered, they need to be considered for for new employees. The state has already made their deal with current and past state employees.

Author

Francis Rullan

Date

2011-09-22T12:53:42-06:00
ID

165034

Comment

(Correction to typo in last posting) In my America, a contract is a contract is a contract. If PERS changes are to be considered, they need to be considered for new employees. The state has already made their deal with current and past state employees..

Author

Francis Rullan

Date

2011-09-22T15:43:12-06:00
More like this story
More stories by this author