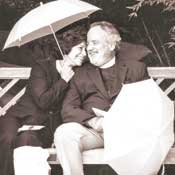 In the fall of 1991, Deborah Harris, then 39, picked up a couple of muffalettas for lunch from a local restaurant in Shreveport, La. She went downtown to the rooftop of the First United Methodist Church to meet her new beau, David Dykes, then 48. Anxious about his leaving town that afternoon, a strange feeling started to come over Deborah as they ate and exchanged a few kisses on the rooftop. When they were done eating, David drove Deborah back to her office at Southern University, only a block away.
On the short drive back, Deborah felt her emotions growing stronger, and she attempted to conquer her southern-girl sensibilities. Finally, unable to fight the urge any longer, she turned to David as he parked the car, held him in a deep gaze and said, "I want to get inside your soul."
Then she passionately kissed him on his lips, got out of the car and entered the building.
"I scared myself half to death," Deborah recalled more than 20 years later. She gazed into David's eyes and asked, "And you, too, huh?"
David nodded.
"Yeah, I left him stunned with the motor running," Deborah said with a big laugh.
"And you jumped out of the car and ran into the building, too," David said, causing Deborah to laugh even harder.
"We are more in love today than we were back then," Deborah said as the laughter subsided, never breaking eye contact with David.
Her statement seemed to cloak their office in love.
In the fall of 1986, David, then 43, and Deborah, then 35, met while working at his father's production studio in the First United Methodist Church in Shreveport. Debo served as director of academic advancement for Southern University's Shreveport campus at the time. "I had developed a two-year associate degree program, and I needed a studio so that the students could learn broadcasting and telecommunication and how to work a camera," she said. "And I knew his dad had a studio located across the street from the campus."
David's dad was instrumental in the couple meeting.
"My dad kept saying, 'Man, you have got to meet Debo Harris. I mean, you two are cut from the same cloth,'" David remembered.
"I didn't know what he really meant by that. Then I saw her."
"You remember what I was wearing?" Debo asked.
David smiled confidently. "I sure do," he said. "You were wearing that green linen dress."
Debo laughed again.
Intensely in love, Debo moved to Denver, Colo., where David lived in 1992. On Dec. 9, 1992, the two wed at St. John's Cathedral in Denver in the presence of only a priest and their two closest friends at the time, Breck and Mary Lynn Grover. Poinsettias decorated the cathedral, and an organist played as Debo walked down the aisle as the priest demanded.
"I wanted to just walk in through a side door, but Charles, the priest, said, 'No, no. You have to walk down the aisle,'" Debo said. "But when (Charles) shared those vows with us, it was so genuine. It was very personal. He wanted us to be as married as we wanted to be."
After their intimate wedding, the party made their way to the Brown Palace Hotel, a luxurious 150-year-old hotel in downtown Denver. David promptly asked his good friend not to pay for the meal, and Breck obeyed.
After dinner the newlyweds retired to the room David booked for their honeymoon night.
"We had ordered a modest room. Next thing we know we're in the Beatles suite," Debo remembered. The huge suite was decked out with all the trimmings, including beautiful chocolate-covered strawberries.
"Debo, don't you touch one strawberry. They have us in the wrong room," David said to his new bride. He promptly went downstairs to fix the mix-up, but instead, the front-desk clerk gave the couple a message: "Breck and Mary Lynn say 'Happy Wedding!'"
When people see the Dykes today, they see a couple truly in love. "They are very well-matched, and although they are very different people, they complement each other very well," says Anne Perry, one
of their closest friends.
The couple recalled times when perfect strangers have seen their interaction with one another and made comments. Once, a man passing the two in an airport saw Debo reach up to wipe the sweat from David's brow. "That's the way it's supposed to be," the stranger said.
Debo, now 59, and David, 68, attribute their successful marriage to effective communication, a deep understanding of one another and consideration for each other's emotions.
"The way our relationship continues to grow for me is (that) there is awareness," Debo says. "I am cultivating a much deeper awareness of him as my partner,"
The Dykes have three married children: Jennifer, 39, Suzanna, 35, and Clint, 34.
The D.L Dykes, Jr. Foundation
In 1986, Vicksburg native R.Z. Biedenharn decided to create and financially back a foundation named for his good friend, Dr. D.L. Dykes Jr., the influential pastor of the First United Methodist Church in Shreveport, La. for 30 years, and David Dykes' father.
For 11 years, the D.L. Dykes Jr. Foundation concentrated its efforts on supporting programming of the Alternate View Network, which was a television program from the First United Methodist Church that offered an alternate understanding of Christianity than what was traditionally portrayed.
The foundation created Faith and Reason in 1996 as a way to offer religious-study learning opportunities, so that people could take religion to a level of critical thinking. David continues his father's legacy today, serving as CEO of the foundation, and Debo serves as director of media and curricula.
"The work of the foundation is to broaden people's awareness about not only the Christian tradition. But if you broaden your awareness about the history and the meaning of the Christian tradition, then it becomes very natural to be accepting of however human beings choose to have a relationship with God," Debo Dykes, an Episcopal priest, says.
The mission of the D.L. Dykes Foundation is to "lend a hand and encourage individuals to learn to think critically about religious issues," David Dykes, a Methodist priest, says.
The foundation recently published a curriculum for churches in collaboration with John Dominic Crossan, well-known biblical scholar, author and lecturer, titled "The Challenge of Jesus." "It's as if we're trying to take a step back and see if we can catch a glimpse of a historical Jesus before he was identified as Son of God," David says about "The Challenge of Jesus." The curriculum is a historical review of the world Jesus lived in and moves from fact (Jesus' life and death) to belief (the resurrection). The curriculum includes 16 weeks of material for church and classroom instruction and costs $295.
For more information about Faith and Reason and "The Challenge of Jesus," call 800-882-7424 or visit http://faithandreason.org.
More like this story
More stories by this author