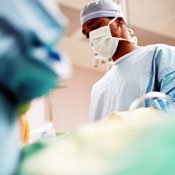 More than 20 medical professionals held a press conference at the state Capitol yesterday to speak out against a ballot initiative that would redefine the word "person" or "persons" in the state Constitution to "include every human being from the moment of fertilization, cloning or the functional equivalent thereof."
The medical professionals called the initiative dangerous, saying that it could put doctors and nurses at risk of prosecution for performing life-saving procedures for women. The groups speaking out against the initiative include: Mississippi Doctors Against #26, the Mississippi State Medical Association, the Mississippi Chapter of the American Congress of Obstetricians and Gynecologists, the Mississippi Nurses Association, the American Society of Reproductive Medicine and the Society of Assisted Reproductive Technology.
"We fear that it will place in jeopardy a physician who tries to save a mother's life by performing procedures and employing techniques physicians have used for years," members of the Mississippi State Medical Association wrote in a statement. "The common procedures we use now could be interpreted as murder or wrongful death if Proposal 26 passes. This justifiably will limit the physician's options and deter use of common lifesaving procedures. It is for this reason only, the MSMA Board of Trustees cannot support Initiative 26."