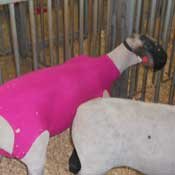 It's really no secret that I love shiny things and a good show. My childhood included playing dress up, thanks to an extensive wardrobe of old dance-recital costumes and treasures from the Junior Auxiliary's thrift store. Then the general rule was the more sequins, the better.
On the opposite end of that spectrum, however, I also profoundly loved the book "Charlotte's Web." This, coupled with growing up with friends who lived on land with horses and cows, gets credit for my otherwise inexplicable affinity for farm animals. I was sent into a whirlwind of excitement from Jackson State University's Homecoming parade falling the same week as the Mississippi State Fair. This represented a perfect storm of sequins and livestock.
Despite living downtown for almost five years, I still turn into a little kid at the prospect of a parade outside my window. The JSU parade is a big one with bands and floats. It's not just any marching bands but the Sonic Boom of the South and the Prancing J-Settes!
Friday evening before the parade, I ran into friends who live at Electric 308, and we made plans to watch from the building's balcony. Saturday morning, I made my way through the crowds along Capitol Street and headed to the balcony, welcomed with mimosas (of course). A few minutes later, another neighbor joined, bearing a basket full of homemade pumpkin-chocolate chip muffins—we're no amateur spectators. Properly fed and hydrated, we settled in.
The parade was all that it should be—lots of bands, sequins and royalty. I'll confess, I found myself critiquing (and being a little jealous of) the dance teams' knee-high boots and lots of sequins and practicing the sashay that they have down pat.
Of course, the highlight was the Sonic Boom at the end. Our vantage point was perfect. They stopped right in front of the Governor's Mansion.
What could follow a parade? Fun at the state fair, naturally. Underground 119 (119 S. President St., 601-352-2322) prepared me for fair excitement earlier in the week by offering any menu item "fair style" (fried and on a stick). On top of that, my mother understands my love of farm animals, so when she heard the State Fair includes pig races, she immediately asked if I wanted to go, and I immediately said yes. So after the parade, she and I and my dad headed to the fairgrounds.
Bypassing donut burgers and chocolate-dipped corn dogs, I hightailed it straight to the livestock, because I'm a girl with priorities. Let me tell you, spas and beauty salons have nothing on the grooming taking place on the cows, bulls and sheep. The patience of their caretakers, as well as the patience of the animals, is quite something. Sheep judging was underway while we were there, but my favorites were the sheep in their stalls waiting—because they're shorn to show, they wear what I can only describe as mock-turtleneck unitards to keep them warm. One group's turtlenecks were all bright neon colors; they looked like an '80s pop group. Of course, I loved the pig races, too, and the petting zoo.
The fall fun will just keep coming with Lemuria's Damned Night with Chuck Palahniuk (5:30 p.m. Oct. 20 at Hal and Mal's, 200 Commerce St., 601-948-0888) and several Halloween parties on the way. I'm sure there will be more sequins to come in the next few weeks. That makes me happy.
Julie Skipper submitted this column before learning of Craig Noone's death Oct. 14.
Follow Julie on Twitter @jcskipp.
More like this story
More stories by this author
Like independent media outlets around the world, the Jackson Free Press works hard to produce important content on a limited budget. We'd love your help! Become a JFP VIP member today and/or donate to our journalism fund. Thanks for considering a JFP VIP membership or one-time support.