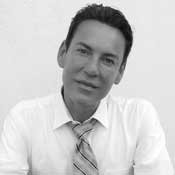 Lugging groceries from the elevator will slowly make a mortgage-phobic person consider whipping into a carport.
Feel free to judge, but I've lived in eight different places since 2004. Yes, I'm aware that makes me sound like a Gypsy, but I can defend myself. Justin and I talked about home ownership the way some heterosexual couples talk about having kids—one day, just not today. I never had to worry about fallen trees on my roof, exploding water heaters, termite contracts or Jehovah's Witnesses, and that was fine with me. But then, for the first time in a long time, I drove by a house that felt like home.
Justin and I met nine years ago in Memphis, Tenn. Both fresh out of four-year relationships, we were itching to start the next phase of our lives. This, for me, is a recurring theme: the "what's next?"
Having spent a good deal of time, energy and money chasing the "American Dream," I had a good income, a German car and owned a cute little '40s house with my former partner. I wanted a new dishwasher; he wanted to move up the corporate ladder. That's pretty much how we grew apart.
Justin abandoned his coupling after a string of indiscretions on his partner's end. He had quit his job to become a "stay-home gay," and busied himself by nesting. His partner, who was in the restaurant business, was also consumed with moving up. Eventually, Justin had enough and moved on.
I had just finished moving the last of my possessions into a tiny studio across the street from AutoZone Park, home of the Memphis Redbirds in downtown Memphis. The apartment was just a couple of blocks from bars and eateries where I would step out of my shell and meet new people. I imagined myself to be something like a gay, male Carrie Bradshaw—full of optimism, with a love for shoes and cute boys. I vowed to be bold in my quest for the next phase of my life.
It was almost lunchtime, so I popped into the Peabody Hotel to see if my gal-pal Kirsten was at work. She was off Mondays, a cute boy behind the front desk informed me, but he would tell her I stopped by. Halfway home, it occurred to me that I should've asked him out. "So much for the 'bold new' Eddie," I thought.
Later, Kirsten rang me to see if I wanted to meet for a drink or two. I caught up with her and her man-friend, Gene, at Huey's.
We chatted about my new life and what I hoped for my future. "I'm giving Memphis a year to make me stay," I said defiantly, and then asked, "Tell me about that boy behind the front desk."
On our walk back to my apartment, Kirsten shared with me what little she knew about Justin and his previous relationship. He was full of passion for life, kind as anyone she'd ever met and funny. "Equally as inappropriate as we can be," she said.
It was then I announced, "I'm going to ask that boy out."
"I think you should," Kirsten said assuredly. So, I did.
Turns out, J had called her immediately after I left the Peabody earlier that day, demanding to know who "that man" was who had come calling.
One year in Memphis turned into two, and he and I were sharing a loft on the top floor of the old YMCA building on Madison Street. We loved that loft and loved entertaining there. In fact, we hosted a couple of birthday parties for people we didn't even know. Crazy I know, but when you know how to throw a wingding, and you don't use that talent, somewhere in the world a child is born cross-eyed.
Eventually, we made the decision to come to Jackson and gave up the loft. We lived in the King Edward for two years. It was a 20-year dream realized for me, but lugging groceries from the elevator to the other end of the building a few hundred times will slowly make a mortgage-phobic person consider the convenience of whipping into a carport.
One evening, while celebrating our ninth anniversary at Parlor Market, I confessed that I couldn't wait to buy a house. J, looking as if he had been keeping a terrible family secret from me, immediately confessed the same.
Three weeks later, I found myself standing in the middle of a '50s ranch in need of a couple of gays. "I do believe this is our home," I said to Justin.
Lately, I've listened as he gushes about the refinished wood floors, the enormous closets and the deck that's bigger than a Broadway stage. I informed everyone that Halloween was to be spent with me, and I filled the front yard with my jack-o'-lanterns—all carved free hand. (I'm going on record to say that Halloween is the only day of the year when I openly welcome children into my world.)
I've also laid claim to Thanksgiving, as we'll finally have plenty of room to feed the misfits in my life.
Three beds, three baths and a two-car garage are about as close as we can get to marriage, for now. That's what's next, after all.
Eddie Outlaw is co-owner of the William Wallace Salon in Fondren and spends most of his time trying not to embarrass his sweet Delta mother on http://www.eddieoutlaw.com.
More like this story
More stories by this author
Like independent media outlets around the world, the Jackson Free Press works hard to produce important content on a limited budget. We'd love your help! Become a JFP VIP member today and/or donate to our journalism fund. Thanks for considering a JFP VIP membership or one-time support.