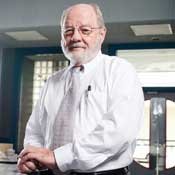 When Robert Parker Adams was a teenager, he spent muggy Mississippi afternoons playing pinball at Jackson's Greyhound station at 219 N. Lamar St. It was just across the street from his school, Central High School.
By 1988, Greyhound relocated the station, and the city had condemned the building where the Freedom Riders were arrested in 1961. Adams moved his firm into the building in 1988. It needed significant repairs, and original features such as the running neon greyhound on the building's façade no longer worked. Since 1970, Robert Parker Adams Architects has specialized in historic-preservation projects.
With historic tax incentives, Adams transformed the stations' coffee shop into a meeting space with 10-foot-tall glass doors. He modeled a receptionist desk in the center of the building after the horseshoe-shaped counter where patrons used to eat. The original counter disappeared during the Freedom Rides and vending machines took its place. The restaurant's original jukeboxes hang on the wall next to a mural that replaced windows that overlooked the station's loading dock. The mural, by Jackson artist P. Sanders McNeal, replicates the station during its heyday in the 1940s. Several members of the firm, including Adams and his wife, are pictured in the mural.
Adams has preserved his memories of the station in the office, which contains a pinball machine. A Greyhound emblem from an old bus adorns the wall behind firm's coffee station. The ticket counters are still intact, and Adams repaired the running neon greyhound to light up again.
"The running dog was an icon that was important to this building because it was developed by the architect who designed it," Adams says. "... When we got here, we learned that there was only one other running dog in the country. The others had all been changed or broken."
The firm's historic restoration projects include the Old Capitol Building, the Mississippi War Memorial Building and the Governor's Mansion. In 1994, Adams won the Governor's Award for Excellence in the Arts for his preservation efforts.
Visitors wander into the office frequently, and Adams is happy to give impromptu tours. A plaque on the wall explains the historic significance of the station and the Freedom Riders' arrest. Ten years ago, he hosted the 40th anniversary of the Freedom Rides at the former station.
On May 24, in honor of the Freedom Rider's 50th year anniversary, Mississippi will commemorate the former station with the second marker on the state's Freedom Trail. The Mississippi Development Authority announced the trail May 5, which will initially mark 30 civil-rights sites in the Magnolia State.
The marker unveiling is 11 a.m., Tuesday, May 24, at 219 Lamar St. The event is open to the public.
More like this story
More stories by this author