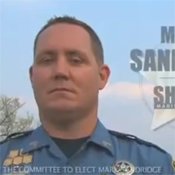 UPDATED: Malco has issued a follow-up statement, ensuring that campaign ads on its screens will "not happen again." See full statement in comments below.
See May 9 Jackblog post: Madison Sheriff Candidate Bashes Jackson in Disturbing Ad
Malco Theatres Inc. today pulled a controversial political ad that uses Jackson's "violent" crime as an indicator of what could happen to Madison County if voters do not elect Mark Sandridge as Madison County sheriff.
A May 5 post on Sandridge's campaign Facebook page writes that the video premiered at Malco Grandview Theater in Madison May 6 and would appear on all screens before every movie for the next three months.
Many residents of both Hinds and Madison counties began speaking out against the ad, and Malco's decision to screen it, after a link to it started showing up on Facebook, Twitter and in a post in the Jackson Free Press' Jackblog. By this morning, the YouTube video had been closed to comments, after a string of comments critical of the ad appeared yesterday.
In a statement today, Memphis-based Malco Theaters Director of Marketing Karen Scott said the theater company was pulling the ad.
"Our screen advertising is handled by a third party," Scott wrote. "It is the policy of Malco Theatres to not run political campaign ads, and we have requested that this be removed immediately."
The ad displays an unspecified moving highway, and indicates the small divide that separates Jackson from Madison County.
"Imagine for a moment this road was our county line," the ad's narrator says. "This side represents one of the most violent cities in the nation. Over here, on our side, one of the most desirable communities in America to raise a family. And there's one candidate for Madison County sheriff that intends to keep it that way: Mark Sandridge."
Scott would not specify the third party, or if the theater had screened any other candidate's ads.
Sandridge and local Malco Grandview managers did not immediately return calls for comment.
Jackson resident Dorsey Carson, who is running for state representative of district 64, which includes Madison County, said crime is not just a concern in Jackson residents.
"Crime does not stop at County Line Road," Carson said, adding that property crimes are the highest crimes, not violent crimes.
Overall crime in the city of Jackson is declining. In an April 21 statement, the city of Jackson reported that overall crime in the city dropped 6.7 percent compared to the same time last year, with total property crime down by 3 percent and violent crime down by 27.3 percent.
It is not uncommon for candidates for political office, and their supporters, to campaign against fear of crime in Jackson. In 2003, both Haley Barbour (for governor) and Wilson Carroll (for Hinds County district attorney) used outdated "dangerous" rankings in their campaigns. Then in 2009, the "Better Jackson PAC" used a similar strategy in supporter of mayoral candidate Marshand Crisler.
Also see: Jackson Counters High Crime Rate Claim
Previous Comments
ID

163452

Comment

You can voice your displeasure with ad directly to Sandridge HERE: http://www.facebook.com/pages/Mark-Sandridge-for-Madison-County-Sheriff/137460759653539?sk=wall

Author

Kamikaze

Date

2011-05-10T14:18:21-06:00
ID

163464

Comment

The nerve of Malco to run such a tasteless mean spirited ad! They think that they can say anything, anytime and certainly anywhere that is a negative about Jackson. I was happy to hear that the ad was pulled; however, Jackson residents must face the fact that far too many Madison folks want us to come and spend our dollars, then, they want us to leave; quick, fast and in a hurry. Pulling the ad is akin to closing the gate after the cows are out or trying to un-ring the bell. Looking at Madison's history of so many complaints about racial profiling, this position must be considered carefully. The position of sheriff is also too serious and powerful to elect a person who has strong indications of a negative mental mind-set about our Capitol City, Jackson. The replacement ad should read: "NO MARK FOR MARK"

Author

justjess

Date

2011-05-10T16:36:02-06:00
ID

163486

Comment

JUST IN: Karen Scott, marketing director of Memphis-based Malco Theaters, just sent a new statement to the JFP about the controversial campaign ad. Verbatim: Malco Theatres' screen advertising is handled by Screenvision, a third-party national media company that specializes in cinema advertising. Advertising is provided as part of a pre-packaged 25-minute program, consisting of entertainment and advertising content that is delivered via satellite directly to Screenvision's server and projection system in each auditorium at the theatre. Our corporate policy is that we do not run political campaign advertising. The ad in question was not submitted to us in advance for approval, and when we discovered it on screen, we had it be removed immediately. Screenvision has assured us that additional measures have been put into place to insure that this does not happen again. k -- Karen Scott Director of Marketing Malco Theatres

Author

DonnaLadd

Date

2011-05-11T10:19:45-06:00
ID

163553

Comment

UPDATE: This morning, Sandridge's campaign sent us a statement he released May 10 defending the ad. Read more in this week's JFP: "For me to ignore the indisputable facts of an overwhelming level of crime in a neighboring county would be, professionally speaking, irresponsible. I will not abandon my promise to Madison County voters to keep criminals out of our county, before they can commit crimes in our county."

Author

Lacey McLaughlin

Date

2011-05-17T11:44:48-06:00
More like this story
More stories by this author