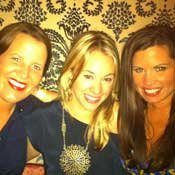 May4, 2011
When I was young, I used to love to visit my grandparents who lived next door. Granddad loved to watch sports. I would sit in his lap or next to him at the table as we gathered for Thanksgiving dinner. Of course, we would watch football, but my grandfather was not just a football guy. Before I was born he loved to play golf and tennis. I never saw him play sports, but I did sit and watch the fiery tennis player John McEnroe and swashbuckling golfer Juan "Chi-Chi" Rodríguez with him. Together, we would watch pro wrestling that he had taped when it came on late at night. I still watch wrestling to this day.
My family began to notice things were not completely right with my grandfather in spring 1988. He would become confused and lost going to places he had gone to many times before. He was diagnosed with Alzheimer's disease in fall 1988. He passed away from Alzheimer's in July 1992.
Thirteen years after his death, a group of young professional women in Washington, D.C., all personally affected, came together in 2005 and began the Blondes vs. Brunettes powder-puff football game to raise awareness of the disease and raise money for the American Alzheimer's Association.
The success of the first event has caused Blondes vs. Brunettes to spread to eight cities by 2010, raising more than $1 million. Eight more cities will join this list in 2011.
Jackson will be one of those first-time cities this year because of three friends talking late one night after a birthday party at Julep restaurant. Beth Hamilton was in Washington, D.C., during the first Blondes vs. Brunettes game in 2005.
Around midnight, Hamilton asked her friends, Germaine Benoit and Claire Barker Hawkins, if they would be willing to help start a Blondes vs. Brunettes game in Jackson. The group was out celebrating Cable Hawkins' birthday (Claire Barker Hawkins' husband).
Benoit, a blonde, and Claire Hawkins, a brunette, agreed to help and even went a step further asking to be the captains of each team. Hamilton then got in touch with Ian MacDonald from the Mississippi Alzheimer's Association to help put together Blondes vs. Brunettes Jackson. With help from MacDonald, Hamilton launched a Blondes vs. Brunettes Jackson website (bvbms.com) to help raise money, and the event was off and running.
Hawkins and Benoit have taken their friendly rivalry to a whole new level as captains of the teams. The Hawkins family has its pride on the line, because Benoit beat out Hawkins' husband in an "Iron Chef"-type competition.
"I really want to win one for the Hawkins family," Claire Hawkins says.
Helping Hawkins out is the considerable numbers advantage her team enjoys. So far, 55 brunettes have signed up to play compared to just 24 blondes. "It is nice to see more brunettes at events," Hawkins says.
That does not faze Benoit, the former Ole Miss homecoming queen affectionately called "Germajesty" by her friends. Benoit says she is not worried about losing "because blondes have more fun and, therefore, they will win."
Hawkins fired back. "I will dye my hair if we lose. That is how much faith I have in my team," she says.
Benoit also agreed to put her hair color on the line. The losing captain of Blondes vs. Brunettes has to dye her hair the color of the winning team's hair.
Trash talk has not been limited to the captains alone. Brunette head coach Todd Wade, a former Ole Miss and NFL offensive tackle, said he expects the game to be over by half time. "I really want this game," he says.
His blonde head-coach counterpart, sports radio personality Bo Bounds, takes a more diplomatic approach. "I will take quality over the quantity Todd has," Bounds says.
Bounds was amazed that collectively these young women have raised more than $15,000. "It is nice to see young people willing to sacrifice time and energy to give back to their communities," he says.
While the blondes are short on players, they have been active in fund raising. Benoit and Rebecca Hollis, both blonde players, have raised more than $1,000 each so far; Hollis has raised $1,600. Leading the brunettes in fundraising is Mary Lacy Montgomery, raising $700 and Claire Hawkins, raising $665.
Wade, whom Hamilton asked to coach, says the brunettes will run a West Coast-type offense. Bounds, whom Benoit contacted to coach, is going with a spread offense and says blondes are going to throw the ball all over the field. The coaches have gotten into the betting action putting dinner on the line. The losing coach will buy the winning coach dinner.
Rules are standard flag-football. Players can only stand in front of defenders to block. Players "tackle" by pulling flags off belts.
Blondes vs. Brunettes is 2 p.m., Saturday, May 14, at Millsaps College Football Stadium. The losing captain will come to the after-party at Hal and Mal's (200 S. Commerce St.) with a new hair color. Visit http://www.bvbms.com for information.
More like this story
More stories by this author
Like independent media outlets around the world, the Jackson Free Press works hard to produce important content on a limited budget. We'd love your help! Become a JFP VIP member today and/or donate to our journalism fund. Thanks for considering a JFP VIP membership or one-time support.