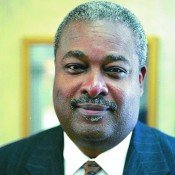 Fishing and financing are on the Jackson City Council agenda this week as the council considers reopening Livingston Park Lake for youth recreation and refunding a chunk of city debt.
The largely under-utilized Livingston Park Lake sits a few hundred feet from the busy intersection of Capitol Street and Ellis Avenue and is only a few steps from the Jackson Zoological Park. A small forest and a recreational train surround the lake, but despite the picturesque scenery, the lake itself gets little attention.
"Livingston Park Lake is truly a jewel right here in the center of Jackson," said city spokesman Chris Mims.
The lake served as a popular swimming hole in earlier years, but the population lost interest in most of the fenced-in park property. Jackson Mayor Harvey Johnson Jr. wants to end to the lonely lake's isolation and put it to practical use as a fishing hole for kids 15 years of age or younger. Johnson submitted to the city council a memorandum of understanding with the Mississippi Wildlife, Fisheries and Parks Foundation, which would open the lake to the Youth Fishing Project. The foundation intends to establish fishing hours for youth at the lake, provide instruction on how to use a fishing pole, apply bait without drawing blood, and perfect the ability to avoid work and go loaf at a lakeside.
On the business end, the city this week is also looking to save $1.5 million by refinancing $40 million in water and sewer infrastructure debt.
"What we propose to the city as it relates to water sewer refinancing is fairly typical," said Malachi Financial Products owner Porter Bingham at the Monday council work session. "We want to refund certain series of bonds: the 2002 water and sewer bonds. There is an opportunity to find significant savings."
More like this story