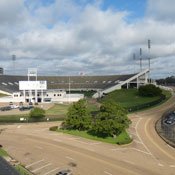 Jackson State University will be the new owner of Mississippi Veterans Memorial Stadium if Gov. Haley Barbour agrees.
The Mississippi House of Representatives accepted the Senate's version of a bill transferring ownership of the stadium to the university last week.
Jackson State officials say the school is the only one in the state with its own football team but no stadium. House Bill 1158, submitted by Rep. Mary Coleman, D-Jackson, directs the Department of Finance and Administration, as managing agency for the Mississippi Veterans Memorial Stadium, to transfer the stadium to the university. The department will also transfer other state-owned property immediately surrounding the stadium to JSU and the University of Mississippi Medical Center.
Health Care Can Wait
The complicated procedure of creating a Mississippi health insurance exchange to comply with the Patient Protection and Affordable Care Act hit a bump in the road last week. President Barack Obama signed into law last year a federal statute that requires states to create health-care exchanges providing a market for company and individual health-insurance policies. The federal Patient Protection and Affordable Care Act sets a 2014 deadline for states to create their exchanges, programs that must also monitor, certify and rate insurance plans, negotiate and establish customer tax credits, and determine customer eligibility for federal programs like Medicaid, CHIP and other public programs.
In addition, the federal law requires exchanges to calculate health-insurance costs, establish an exchange navigation website and to set up and operate a toll-free hotline.
States have two years to put the exchange together, but last week, Mississippi legislators let SB 2992 die, a bill that would have created the exchange.
Joseph Ammerman, spokesman for Mississippi Insurance Commissioner Mike Chaney, says a nearly identical House bill is still alive, but HB 1220 is not quite out of the fire. It currently awaits a House decision to concur or invite a conference with senators to hash out a version of the bill that squares with the desires of both chambers. On March 8, however, House leaders declined to concur with senators on the bill, sending the measure to a panel of negotiators from both chambers to hash out their differences.
Looking After the Looked-After
Abusers of vulnerable adults face harsher penalties after July when legislators up the ante for third-time abuse convictions. Abuse of vulnerable adults includes willfully omitting performing duties that contribute or cause physical pain, injury or mental anguish. It also includes "unreasonable confinement or deprivation of services," which could include access to food, water, air-conditioning or heat, or financial exploitation. An example of financial exploitation could be a personal-care home employee or owner tapping into a resident's bank account or cashing a resident's government-issued check without proper authority.
Under HB 562, first and second violations of the law carry a misdemeanor charge with a fine of up to $1,000 or up to one-year imprisonment in the county jail, or both. A third conviction within five years, however, upgrades the misdemeanor to a felony and makes possible a five-year prison sentence in the Mississippi Department of Corrections and a maximum fine of up to $5,000.
"This bill adds some much needed heat to the current misdemeanor statute," Attorney General Jim Hood said in a statement. Hood's fraud division has been busting institutional-care workers who have stolen from or abused their patients.
A New Review
Mississippi may soon have a unified, consistent program for offering mental-health services to patients. Senate Bill 2836, the Mississippi Mental Health Reform Act, creates a statewide program to oversee the state's many mental-health facilities.
Mary Troupe, executive director of the Coalition for Citizens with Disabilities, praised the bill, arguing that the state currently provides no consistency of services between its mental-health facilities.
"People have to travel across three or four counties to get their proper care, and they can't afford it," Troupe said. "... People throughout the state need consistent care."
The bill awaits a panel of lawmakers to agree on a single version of the bill.
More like this story