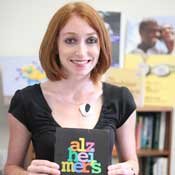 Like David fighting Goliath, Sara Murphy is attempting to slay a monster: Alzheimer's disease. Murphy, 30, is the outreach coordinator for the Alzheimer's Association Mississippi Chapter, an organization working to raise awareness and help victims of the disease. Murphy's job is to spread the word about Alzheimer's destruction and to aid anyone affected.
A Virginia native, Murphy moved to Ridgeland in 2009 with her husband Tim Murphy, a local radio personality on Y101.
Throughout her life, Murphy had a strong bond with her family, specifically her grandmother. And when her grandmother injured herself and moved to an assisted-care facility, Murphy decided that her destiny was in helping elderly people. To fulfill her dream, she acquired her bachelor's degree in nutrition at Bridgewater College near Harrisonburg, Va., and a gerontology certificate from James Madison University.
Murphy sees her education as an opportunity to study the aging process and the diseases that strike some. As one of only four employees of the state's Alzheimer's Association chapter, Murphy works throughout Mississippi creating support groups and providing help to victims.
One of the biggest obstacles Murphy sees in fighting Alzheimer's is public 
opinion. "People incorrectly assume that it as a natural part of aging," Murphy says. But Alzheimer's is a disease, and we want people to know that it is a public-
health crisis."
Alzheimer's is the most common form of dementia, she says, but its deadliness 
is unknown.
The cause Murphy advocates is personal to her. At 19, she saw a relative suffer from the disease.
"I saw my great-uncle suffer from Alzheimer's, and it really affected me," she says. "It hurt to have someone you love not be able to recognize you."
In May, Murphy helped organize and then played in the "Blondes vs. Brunettes" flag football game in Jackson. Young women with different hair colors battled each other and raised more than $21,000 for Alzheimer's research. Even though she has red hair, she played on team blonde. Murphy hopes the fundraiser will become an annual event in Jackson and draw more support.
Murphy has spent most of her life advocating awareness. She recognizes that people fear Alzheimer's, but lack the resources to deal with it. Even though Murphy has a difficult challenge, she has no plans to stop.
"I love what I do," she says. "I want to continue to spread knowledge about the brutality of Alzheimer's."
More like this story
More stories by this author