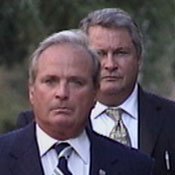 Attorneys for convicted lawyer Paul Minor are planning their next move now that U.S. District Judge Henry Wingate finally re-sentenced Minor and former judges John Whitfield and Walter "Wes" Teel. Wingate re-sentenced the three June 13, 18 months after the 5th U.S. Circuit Court of Appeals tossed some convictions in an alleged loan scheme in December 2009.
"What he's convicted of is not a crime under the new Skilling v. United States Supreme Court decision," said former Supreme Court Justice Oliver Diaz, one of Minor's attorneys.
A federal jury convicted the three of federal bribery and honest-services fraud in 2007, but Minor's attorneys successfully appealed the bribery portion of the conviction. The appeals court found that the federal statute under which prosecutors snagged a corruption conviction did not apply to the Minor case, and vacated that portion of the conviction, leaving intact the charges of honest-services fraud, a charge alleging a scheme to deprive voters of the services due them by an official.
With the federal bribery charges gone, Wingate re-sentenced Minor to eight years, Whitfield to about six years and Teel to four.Minor originally was sentenced to 11 years, Whitfield slightly more than nine years (110 months) and Teel slightly less than six years (70 months). With time served, Teel could be a free in a matter of weeks.
Prosecutors argued that Minor guaranteed loans for the judges and then paid off the loans himself. Minor's defense team—which includes Greenwood attorney Hiram Eastland on the corruption charges and former Supreme Court Justices Diaz and Chuck McRae on the honest services fraud charges—say that prosecutors never proved that Minor expected an exchange of services for the money.
Wingate issued jury instructions in the 2007 trial that omitted any need to prove Minor derived benefit from the paid-off loans.
"You may find specific criminal intent even though you may find that the rulings were legal and correct, that the official conduct would have been done anyway, that the official conduct sought to be influenced was lawful and required by law, and that the official conduct was desirable or beneficial to the public welfare," Wingate wrote.
Eastland said prosecutors misstated the law required to convict Paul Minor by "representing to the district court that no this-for-that quid pro quo was required to convict Minor of the federal bribery, honest-services bribery and RICO bribery charges brought against him."
Diaz, who was found innocent of corruption related to Minor's loans in 2005, said without proof of an actual bribe, a jury could find guilty anybody who aids a judge's campaign and whose interests appear in that judge's court.
The U.S. Supreme Court refused to hear Minor's appeal last year while he waited for resentencing, but his attorneys say that the courts may be more receptive to consider the appeal now that the resentencing stage is complete. Minor's new appeal to the 5th Circuit now enters a legal world with a tighter definition on what constitutes honest-services fraud, since the ruling of the controversial Skilling v. United States case set new, stricter parameters.
On June 24, 2011, the Supreme Court found in Skilling that the federal honest-services statute only deals with mail and wire fraud "bribery and kickback" schemes. Even though the court validated most of former ENRON CEO Jeffrey Skilling's convictions in its decision, it jettisoned federal prosecutors' attempt to apply the statute to schemes involving "undisclosed self-dealing by a public official or private employee." ("Self-dealing" involves someone acting in their own interests rather than in the interests of a client.)
The court decided that narrowing the application of the statute "to encompass only bribery and kickback schemes" was "not unconstitutionally vague," and therefore proper.
Last year, the Supreme Court overturned several cases with honest-services convictions, including Imad Hereimi v. United States, Jack Hargrove v. United States, Paula Harris v. United States and Mustafa Redzic v. United States, based on its 2010 interpretation of federal law regarding the ENRON-related case. It did not address Minor's request for Supreme Court review, however, since his case was still awaiting resentencing by Wingate.
Minor's attorneys say that prosecutors convinced the jury to convict Minor in 2007 for the kind of scheme the Skilling decision undermines. Minor's prosecutors never revealed one favorable court ruling that Minor's loans allegedly purchased from the judges.
Federal prosecutors, who argued that the men's offenses were "serious" at the recent re-sentencing, did not have an immediate response to Minor's plan to appeal.
The government has 30 days to respond to Minor's appeal after it is filed.
Previous Comments
ID

163871

Comment

I say let these guys and Scruggs out of jail. They have done enough time for doing what capitalists do all the time with greater success - buy, cheat or steal their way into success and fortune. Let them out and they will use the rest of their money and connections for good purposes.

Author

Walt

Date

2011-06-23T16:41:12-06:00
More like this story
More stories by this author
Like independent media outlets around the world, the Jackson Free Press works hard to produce important content on a limited budget. We'd love your help! Become a JFP VIP member today and/or donate to our journalism fund. Thanks for considering a JFP VIP membership or one-time support.