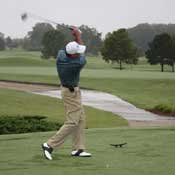 Golf is the one sport I have a love-hate relationship with. If you have never played golf, I will try to put that in perspective for you. Golf is like the ex-girlfriend that got away. You learn she is back in town, and all you can remember is the good times you had together. Those wonderful memories make you want to start the doomed relationship all over again.
At the start of a retread relationship with golf, I remember everything I love about the game: the fresh air, time with friends and that first tee shot. Then, slowly and inevitably, all the old problems that doomed that relationship the first time arise: Hooks or sliced shots off the tee, sand bunkers, the rough and water all come back, like all the fights in that old relationship.
Just when I want to walk away, it happens. I hit the perfect tee shot, the great chip onto the green or sink a long putt. Magically, I forget all the bad fights and remember why I fell in love in the first place, even though I know it will end badly. Leaving the course, I remember the one shot that went my way. It's like that one moment that made me fall in love with that woman the first time.
Even with that love-hate relationship, I know I will play golf again if invited.
I started playing golf when I lived in Hattiesburg in the early 2000s, but I did not know what the courses in Jackson were like. So I sought out a person with the knowledge I lacked. Turns out, a former PGA Tour member and Viking Classic tournament director, Randy Watkins, was the man to get the dish on golf in Mississippi.
Watkins grew up in northeast Jackson and joined the PGA Tour in the 1980s. After his playing career was over, he came home to build and manage courses in the Jackson area.
"Golf is a sport you can play forever, man or woman," Watkins said. "Playing golf is great exercise, especially if you walk 18 holes."
Trust me, I have walked 18 holes like a PGA player, and I was so tired that I needed a nap halfway through. Still, it's a good way to enjoy nature and play at the same time.
Because I had only played public courses, I asked Watkins about the difference between public and private courses.
"There are several good public courses in Mississippi," he said. "All the state parks that have courses—Sardis, Jackson, Grenada and McComb—are wonderful places to play."
Watkins was referring to courses at Mississippi State parks: LeFleur's Bluff in Jackson, Quail Hollow in McComb, Mallard Pointe in Sardis and The Dogwoods in Gernada.
"Also, there are very nice municipal and public courses in Jackson and Flowood area," he said. "Public courses offer better access to the game, are less expensive, and golfers are not encumbered with memberships or dues."
Watkins said private courses are part of a lifestyle and a place to network. "People who live around and join private golf courses commune with neighbors and often have cookouts and parties together," he said. "Private courses also offer lessons, clinics and tournaments."
Golf, if you have never played, is the one sport where players are supposed to call penalties on themselves. It would be like an offensive lineman throwing a flag on himself every time he held a player, or a basketball player calling a foul on himself. In no other sport do you police yourself like you do in golf.
That makes golf unusual as a sport. It is also a cruel sport.
Watching the Masters in April, I could feel for Rory McIlroy who collapsed in his final round. If you never played golf, you might not understand. Golf only allows you to grab greatness for a short time. You have to make the most of it before the golf gods feel you have had enough and take away that greatness.
If you're new in town and interested in playing a round of golf in the Jackson area, ask friends or co-workers for their recommendations. If you are just learning the game, try to play during the week so you do not hold up play. Always allow fast groups to play through, and remember to follow all course rules.
Golf can be fun for any skill level or great for spending time with friends. But remember: I warned you about the love-hate relationship. I can just picture my old girlfriend now.
Public and Municipal Golf Courses
Eagle Ridge Golf Course
Highway 18 S., Hinds Community College, Raymond, 601-857-5993
Grove Park Golf Course
1800 Walter Welch Drive, 601-960-2074
Le Fleurs Bluff Golf Course
1225 Lakeland Drive, 601-362-5485
Live Oaks Golf Club
11200 Highway 49 N., 601-982-1231
Patrick Farms Golf Club
300 Clubhouse Drive, 601-664-0304
Pearl Municipal Golf Course
1001 Center City Drive, Pearl, 601-932-3562
The Refuge
2100 Refuge Blvd., Flowood, 601-664-1414
Sonny Guy Municipal Golf Course
3200 W. Woodrow Wilson Ave., 601-960-1905
More like this story
More stories by this author