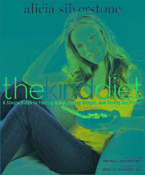 A few years ago, I could not have told you the difference between a vegetarian and a vegan. Furthermore, I wouldn't have been able to even fathom a life without meat. Yet, as I get older, I'm starting to take notice of my less-than-stellar health status and rethinking my terrible eating habits. As a result, the idea of adopting a vegetarian diet has become more appealing.
On an afternoon trek about a month ago to the bookstore near my house, I discovered the "The Kind Diet: A Simple Guide to Feeling Great, Losing Weight, and Saving the Planet (Rodale Books, reprint edition, 2011, $29.99) written by Alicia Silverstone. You may be thinking—as I did—"Isn't that the chick from the Aerosmith videos?"
Indeed it is. From 1993 to 1994, Silverstone starred in three of the band's videos for the songs: "Cryin'," "Amazing" and "Crazy." One of Silverstone's most famous roles, however, was in the 1995 film "Clueless," where she played valley girl Cher Horowitz in a modern-day version of Jane Austen's "Emma."
These days, more people know Silverstone for her animal rights and environmental activism. She became a vegan in 1998, according to a 2007 interview in InStyle magazine. In "The Kind Diet," she recalls the night that she announced this to her now-husband, Christopher.     "That night we grilled the final steak in our freezer," she writes. "It was quite solemn. I remember crossing myself like a Catholic, even though I'm Jewish, because this was a total act of faith."
Almost half the book is devoted to introducing Silverstone's philosophy on food. It's not some overnight fad or a plan that relies on a magical pill; it's laid out as a journey to becoming a better version of yourself through food.
"The Kind Diet will give you tons of energy, mental clarity, gorgeous skin and zest for life you won't want to miss," she writes. "... So this is about treating yourself like a total goddess and putting yourself first."
"The Kind Diet" includes foods broken down into two lists: "nasty" foods and "kind" foods. The nasty food list includes meat, dairy, white sugar and processed foods. On the kind food list, you'll find whole grains, new proteins (found in beans), vegetables and desserts. Yes, dessert. Silverstone includes desserts made from whole-grain flour and complex-carbohydrate sweeteners like rice or brown rice syrup. She also says that we should think of fruit as "God's candy."
Throughout its pages (which, by the way, were printed with inks containing soy or vegetable oils and on 100-percent recyclable post-consumer waste paper), you'll find nutritional facts; how to make your pantry and kitchen "kind" friendly; tips for eating out; fitness suggestions (centered around getting outside more); and ways to be kinder to the earth.
What I enjoyed most about "The Kind Diet" is its attention to helping people take small steps toward a long-term commitment.
"When you make this journey in your own way, there's no such thing as failure," she writes. "Maybe you'll start tonight by trying a veggie dish at the restaurant you'd planned to go to for dinner. ... There's no right way. As long as you continue to make good choices, one choice at a time, you will learn and grow and feel better."
With "The Kind Diet" you can start off "flirting," as Silverstone calls it, making small changes and experimenting with products and recipes. From there, she discusses how to transition to becoming a card-carrying vegan or a full-fledged superhero. The superhero plan is loosely based on a macrobiotic diet, which centers on eating whole grains.
The second half of the book includes meal plans and vegan recipes from Thanksgiving tofu to pan-fried mochi and azuki beans with kabocha squash.
Experts have weighed in on "The Kind Diet" and found it to be sound. The American Dietetic Association reports that going meatless may lower rates of obesity, type 2 diabetes, heart disease and some cancers. Studies show that vegetarians not only eat less saturated fat and cholesterol, but also get more of certain nutrients.
Kate Geagan, nutritionist, registered dietician and author of "Go Green, Get Lean" (Rodale Books, 2009, $19.95), agrees.
"The power of plant foods is amazing, and food really can be your medicine. ... Vegans tend to live longer, have lower cholesterol, blood pressure and weigh less than meat eaters," she writes. While it is possible to lose weight with "The Kind Diet," Geagan says some of the other benefits, like clearer skin, are anecdotal.
Overall, the tone of the book is playful, yet it is clear that Silverstone is passionate about this and practices what she preaches. "I encourage you to let this book gently lift your awareness," she writes, "and you will begin to make the changes that work for you."
More like this story
More stories by this author
Like independent media outlets around the world, the Jackson Free Press works hard to produce important content on a limited budget. We'd love your help! Become a JFP VIP member today and/or donate to our journalism fund. Thanks for considering a JFP VIP membership or one-time support.