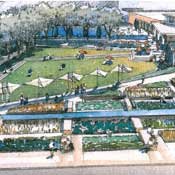 The National Endowment for the Arts awarded the Mississippi Museum of Art with a $150,000 grant yesterday for the museum's upcoming Art Garden.
The NEA awards 51 "Our Town" grants each year nationwide. NEA awards the grant to organizations that show creative placemaking in which partners from public and private sectors change the social, physical, and economic character of a neighborhood, city or region.
The museum plans to open the garden Oct. 1.
"At the heart of the NEA's Our Town initiative is the acknowledgement that the arts can be an agent of change in the community and, through collaboration with partners in both the private and public sectors, our communities can be stronger and better places to live, MMA Director Betsy Bradley said in a statement yesterday, "We are deeply grateful to the NEA for its support of The Art Garden at the Mississippi Museum of Art, which we believe will have a tremendous impact in downtown Jackson as an economic, social, and cultural catalyst."