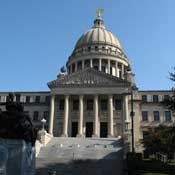 Judges can add an extra level of protection for victims of domestic abuse under House Bill 196, which Gov. Haley Barbour signed in March.
The law allows judges to fit perpetrators of domestic violence with a GPS device as a condition of their bond. It requires no additional money from the state because the perpetrator funds the device and the accompanying monitoring service. The device has an electronic counterpart, owned by the victim. The device alerts the victim if his or her personal terrorist is anywhere within the restricted zone the judge imposed around his or her house, or around places the victim frequents.
The court also gives the victim a hotline to an appropriate member of law enforcement to call if the perpetrator enters any of the restricted zones.
The new law follows a host of new legislation passed during the 2011 legislative session that went into effect July 1.
The Mississippi Coalition for Citizens with Disabilities and other organizations are praising the beginning of a new statewide funding initiative to steer thousands of dollars in Medicaid money into home and community-based health care.
"This creates thousands of new waivers for home care. This is really a decision that legislators made this year to move appropriations," said lobbyist Stan Flint, who pushed for the rebalancing of state funding. "We're one of the leading states sending money to institutions, but nursing homes should not be the default public-policy solution to get long-term care."
The National Center for Medicaid and Medicare Services and MCCD have pushed the state to steer more Medicaid money traditionally slated for institutional long-term health care—such as nursing homes—into home-care nursing. Until recently, however, the Mississippi Division of Medicaid stuck to its guns on slating Medicaid money to institutions, possibly in response to pressure from nursing industry lobbyists.
Mary Troupe, executive director of the Mississippi Coalition for Citizens with Disabilities, said the change will mean qualifying patients can now receive nursing care in the comfort of their homes instead of moving to a medical facility. Flint said the change amounts to incredible savings for the state.
"Home-care nursing is less expensive than institutional care. It saves the state a minimum of $60,000 per person, per year," Flint said. "This appropriation change creates 3,000 waivers for qualifying people. That's 3,000 people saving the state $60,000 each."
Another law becoming effective this month sets the clock ticking on how long non-elementary public schools have to bring a form of sex education to their students. The law makes clear in conservative Mississippi that schools may opt for an abstinence-only version of the sex-education course—which studies have shown to be an ineffective approach to reducing sex among teenagers.
The law also requires parents to OK their child's participation in the sex-ed class before the child may participate. Critics such as Rachel Hicks, executive director of public policy watchdog group Mississippi First, say that a high incidence of teen pregnancies and sexually transmitted diseases affect a disproportionate number of children with non-attentive parents, and that the law's language could end up excluding the most at-risk populations for education.
Under the guidelines, each sex-education course must include information on potential emotional scarring as a result of early or underage sex, as well as an adequate education on the hardships of early parenting and the prevalence of sex-related disease.
Flint said he was thankful opponents didn't kill the flawed bill. "Do not let the perfect be the enemy of the good," Flint told the Jackson Free Press.
"Killing a bill over its shortfalls is a narrow-visioned approach to public policy. What's important is that it is now no longer optional to teach sex-ed. You may go with the abstinence-only piece, which I think does not work, but parents have been telling kids to 'just say no' since Noah got off the boat. It didn't work when I was a kid, and it doesn't work now."
Although the bill kicks in this month, schools have until June 30, 2012, to get their sex-education class together.
Attorney General Jim Hood praised the enactment of a new law that makes online impersonation of a person on any social networking site a misdemeanor offense with a fine between $250 and $1,000, or imprisonment of no less than 10 days.
"Mississippi is really ahead of the curve with the passage of this bill," Hood said in a statement. "This really addresses a problem we see with folks who create Facebook pages in someone else's name and pose as that person, doing a world of harm to the victims of the postings plus the reputation of the 'owner' of the page."
Hood has been an active proponent of legislation that deters bullying and cyber-bullying.
More like this story