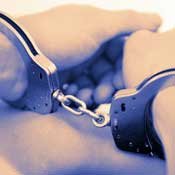 The Walnut Grove Youth Correctional Facility is failing to rehabilitate and is actually endangering the lives of its juvenile inmates, advocates and former inmates told state lawmakers today. Members of the House Juvenile Justice Committee heard a litany of complaints against the state-funded, privately operated prison, ranging from inadequate educational services to misconduct and physical abuse by prison staff.
Committee Chairman Earle Banks, D-Jackson, called the hearing in response to an ongoing U.S. Department of Justice investigation of the prison's conditions and a recent lawsuit the Southern Poverty Law Center filed on behalf of inmates.
Located in the town of Walnut Grove, near Carthage, the prison houses roughly 1,500 juveniles convicted as adults of felony crimes. A town-appointed correctional authority has a contract with the state to house the inmates. The authority, in turn, contracts with the Geo Group, a multi-national corporation based in Florida, to run the facility.
Ross Walton, a 25-year-old accounting student at Jackson State University, told committee members that the prison was "hell" during his four-year stint there from 2004 to 2007. Guards regularly beat inmates and sold drugs to prisoners, he said.
"Anything you can get on the street, you can get at Walnut Grove," Walton said.
Many of the inmates are under court orders to receive educational services, such as GED classes, but frequent, arbitrary lockdowns prevent prisoners from getting consistent tutoring or instruction. Walton said that the lack of educational services meant that the prison was failing its responsibility to rehabilitate inmates.
"It makes no sense to treat someone like a dog, release them and expect them to act like a cat," Walton said.
When committee members toured the prison, they received a completely different impression of the facility, Rep. Sherra Lane, D-Waynesboro, said.
"We were shown beautiful things about the education program," Lane said. "Everything was dressed up; the food was good."
Lane asked how legislators could ensure that they received the unvarnished truth about the facility. Walton advised committee members not to announce their visits of the prison beforehand.
George Cole, a former school principal, told lawmakers that prison staff scorned him for trying to educate the inmates when he oversaw the facility's education program from 2005 to 2009. Prison officials seemed "not that interested in the rehabilitation" of inmates, Cole said.
Cole said that lockdowns limited inmates to an average of two or three days of education a week. The prison almost certainly did not provide the minimum 180 days required for accreditation as a non-public school by the Mississippi Department of Education, he said.
The Geo Group, the Walnut Grove Correctional Authority and the Mississippi Department of Corrections did not send representatives to speak at the hearing, despite an invitation from Banks, who said that he would hold future hearings to get the private company to speak.
"The committee is determined to get them here if we have to subpoena them," Banks said.
Previous Comments
ID

161532

Comment

The governor has been in seat for many years. It looks like change only happens when he is confronted and backed into a corner. He will leave the state in a compromising position when his term is up. His legacy will not leave much of anything to be desired. Did someone say he wanted to run for president? I would love to see him step on that platform. Jimmy

Author

DeGuyz

Date

2011-01-11T14:56:00-06:00
ID

161533

Comment

I am SO happy to see this being explored. We must make changes in our juvenile justice system. Adolescents are NOT "young adults"--their brains have not finished forming, meaning a diminished capacity for impulse control.

Author

JILLCONNERBROWNE

Date

2011-01-11T15:14:49-06:00
More like this story
More stories by this author