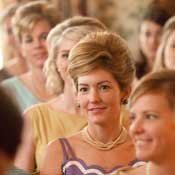 Chick Power
Kathryn Stockett, Writer
Jackson native Kathryn Stockett burst onto the national scene in a huge way this year when her best-selling novel "The Help" debuted on the big screen in a film that her high-school friends shot in Mississippi, including in Fondren and downtown Jackson. Stockett's book and film are imperfect and a bit dreamy-eyed and revisionist about fixing the city's deadly race past, but the fact that the strong black-white female coalition in it resonates with so many (especially white) women of all ages is an indication that times are changing, at least in fits and starts. Stockett herself clearly came from a complicated upscale family in Belhaven who were caught in the middle of the racial upheavals of the 1960s. We were happy to see her create such strong women fighting back; we just hate that she presented the time in a way that could be wrapped up so neatly with the help of one saucy white woman. It just wasn't the case.
— Donna Ladd
Carolyn Meyers, JSU President
After the previous president of Jackson State University, Ronald Mason, ended his tenure amid controversy over his apparent support for merging the state's HBCUs, a small-but-powerful former engineer traded her Norfolk State University presidency for the position. Meyers is a formidable presence at a university desperately in need of reform in top and middle levels of management (to be fair, Mason was responsible for remarkable construction at JSU, making up for what he seemed to lack in management and public-relations skills).
Meyers, the university's first female president, holds a bachelor's degree in mechanical engineering from Howard University in Washington, D.C., and a master's degree in mechanical engineering from the George W. Woodruff School of Mechanical Engineering at the Georgia Institute of Technology in Atlanta.
In addition, Meyers earned a doctorate from the Georgia Institute of Technology's School of Chemical Engineering.
Most importantly, she seems to already be marketing the university in a more positive way; has replaced many incompetent managers; and is eloquent on the need for students and faculty to be more innovative. We like her a lot so far.
— Donna Ladd
Chief Phyliss Anderson
It took two elections, but Phyliss Anderson finally had her inauguration day. The Mississippi Band of Choctaw Indians elected Anderson, 50, as chief twice. The first election was in July, and Anderson won. But a voter complained to the tribe's election committee that some people didn't get to vote. The committee backed Anderson's victory, but the complaint went up the chain to the Tribal Council. Anderson's opponent, Beasley Denson, was the incumbent chief and broke the council's tie vote calling for a new election.
In July, the FBI raided the Choctaws' Silver Star and Golden Moon casinos. While speculation surrounded connections between the election and the FBI raids, officials have said nothing so far.
Anderson won the second election in September and wore traditional Choctaw dress at her October inauguration. She is the first woman to hold the post (thus, an adopted "Jacksonian" worthy of mention). In her campaign and the beginning of her time as chief, she has stressed the need to include all Choctaws in tribe actions. She refers to this philosophy as Choctaw unity, a motto of her administration.
— Valerie Wells
Atlee Breland
Just a few months ago, Atlee Breland was not a professional activist, organizer or public-relations guru. A mother of three preschoolers, Breland runs her own computer-programming business. Soon after the state Supreme Court decided in early September not to block the Personhood Initiative from appearing on the November ballot, Breland almost instantly became a powerful advocate to oppose the measure.
The initiative proposed amending the state constitution to define the word "person" to include fertilized eggs. As Breland argued against this premise with friends and acquaintances on Facebook and on online forums, she decided to go a step further. She started a website and a political-action committee, Parents Against Mississippi 26. She included many fact-based arguments and detailed analysis on her site. She, along with other grassroots Mississippians, made a point to respond to as many news stories and other comment forums with calm, polite and intelligent arguments.
On Nov. 8, 58 percent of Mississippi voters defeated the Personhood initiative. Political experts, including Marty Wiseman of the Mississippi State University Stennis Center, observed that conservative women who at first supported the anti-abortion initiative changed their minds as the complicated health issues were explored in public.
Atlee Breland hasn't stopped fighting the Personhood promoters who are looking at other states now and are considering other ways to change Mississippi law.
— Valerie Wells
Zygote
The most intriguing "person" of the year is not a person at all by definition.
Advocates for the zygote worked for two years in Mississippi to give the microscopic entity the same rights as walking and breathing people. They did not succeed. More than 58 percent of Mississippi voters decided that the state constitution should not redefine the word person to include zygotes or blastocysts.
The advocates did not make a stand on gametes: sperm and eggs were not targeted as potential people. It is unclear if the mostly male-run Personhood campaign thought the tracking of sperm was ridiculous or not.
Fertilized eggs, under the proposed Personhood amendment, would have had the same legal rights as persons in the state's laws. A zygote would be a person under the failed Initiative 26 whether the early-stage embryo developed into a cancerous tumor or embedded itself in a woman's fallopian tube causing a life-threatening ectopic pregnancy.
Health professionals and biologists agree that most zygotes don't become babies. Many leave a woman's body before the woman even knew she was pregnant.
The zygote had no comment.
— Valerie Wells
Politics
Occupy Jackson
The Occupy Wall Street movement came to Jackson Oct. 15 when a group met at Smith Park to protest corporate greed. Some waved flags or strapped Guy Fawkes masks to the backs of their heads as they carried handmade signs to the Capitol to air their many grievances.
The protesters are quick to say they have no leaders or spokespeople, preferring instead to decide their next move through general assemblies, in which those gathered wave their hands in the air to indicate assent. The dozens who showed up at the October rally and the few who have stayed through the months that followed brought with them a diverse list of political affiliations and goals, ranging from ending the Federal Reserve to providing affordable health care to expanding the number of U.S. representatives.
Occupy Jackson is not intriguing for its solidarity with a national movement or its calls to limit corporate donations to political candidates. As in many cities, the protesters' struggle for a place to occupy has been louder than their ideals. In Jackson, the occupiers' appeal to the City Council for a special events permit to stay in the park overnight brought to light a deplorable misunderstanding of the First Amendment by many in the city.
As city leaders debated whether to allow the protesters to stay after hours in the park, residents, protesters and Council members argued about balancing free and open speech with order and quiet.
Rather than discussing whether keeping protesters out of the park at night was a reasonable time, place and manner restriction—which the courts have ruled can limit First Amendment speech—people tended to judge or glorify the occupiers on the merits of their message, whether they were the heirs of Martin Luther King Jr. Or just dirty youth with too much time on their hands.
After several public hearings, speeches by occupiers, grandstanding by city officials and a new Occupy Jackson nonprofit, the City Council finally reached a compromise. The protesters can stay at the park until 11 p.m. each night, after which, as Council President Frank Bluntson said, no one would be awake to hear their free speech anyway.
Occupy Jackson planned to stay in Smith Park through Dec. 26, at which time one of their members was to make a gift to the city. This reporter hopes the gift will be a textbook on First Amendment case law.
— Elizabeth Waibel
Jim Hood, Attorney General
If the state's top political officials were subjects of a "Sesame Street" song, Jim Hood would be the one thing that's not like the others. As the lone elected Democrat left among the upper reaches of state government, Hood sticks out like Cookie Monster at Elmo's family reunion. But neither voters nor the AG himself seem to mind Hood's otherness. Hood certainly chewed up and spat out his Republican challenger, Steve Simpson, gobbling 61 percent of the statewide vote. "People call our state a red state, but what the difference is, how I see it, is that we are one-third Republican, one third Democratic and a third of people in the middle," Hood told the Jackson Free Press in October. He staved off attacks over his audacity to sue corporations that have hurt Mississippi, which has brought more money to state coffers. You hate to see that.
— R. L. Nave
Phil Bryant, Mississippi Governor-Elect
With Gov. Haley Barbour leaving office and the Mississippi Tea Party declaring Phil Bryant the nation's first Tea Party governor, Bryant may wield significant influence in both state and national politics. As the party's new titular leader, Bryant's support will be highly coveted as Republican presidential primary candidates jockey for conservative-values votes for which Mississippi is a bellwether. If history is a guide, look for Bryant to be even more active than his predecessor in legislating from the executive office. But perhaps most importantly, look for Bryant's signature monogrammed cowboy boots. They'll make you want your own pair.
— R.L. Nave
Tyrone Lewis, Hinds County Sheriff-Elect
Tyrone Lewis gave up the prospect of a glamorous life as a country-and-western radio disc jockey to become a cop. While working the midnight shift at a local radio station, Lewis, who spun records under the moniker Travis Knight, read the newspaper between breaks. He eventually responded to a Jackson Police Department recruiting ad and joined the force, rising to the rank of interim police chief. He won the Democratic primary in August, and without a Republican challenger, will be the first African American Hinds County sheriff, unseating long-time Sheriff Malcolm McMillin. He takes office in January.
— R. L. Nave
Haley Barbour, Governor and Lobbyist
The soon-to-be former governor has his next job lined up already. We are not sure how long this plan has been in the works, but Barbour apparently will return to his previous career as a lobbyist. The governor teased the nation with moves suggesting he might run for president in 2012, but this spring he announced he would not run for the top elected office in the nation.
The conservative Republican, who was former President Ronald Reagan's director of political affairs, surprised many when he suggested the Personhood Initiative—that would have made abortion and some birth control methods illegal—was, perhaps, a flawed ballot item that was too vague. Then he surprised everyone again by saying the next day he did vote for the initiative.
Mississippians and the rest of the country learned last month that Barbour's advisers uncovered enough unpleasant information regarding the governor's background to suggest he not run for president. Instead, he returns to the Washington D.C. lobbying scene. The word on K Street is that he will join the firm he helped establish, BGR Holdings.
During the last weeks of his term as governor, Barbour called for cuts in education. He proposed consolidating universities (notably the historically black state universities) and suggested Mississippi Public Broadcasting follow the commercial model of the Discovery Channel and Nickelodeon.
We can see it now—a reality show with lots of gun and chewing tobacco ads: "Lobbing with Bubba."
—Valerie Wells
Sen. Gray Tollison, Partisan Turncoat
What can you say about an elected representative who runs as a member of one political party and then switches to the party in control within a couple days: Tollison of Oxford, previously known as a rather progressive Democrat, did just that in November, angering many Dems around the state, but probably pleasing his Jackson-based fiancée (whom he just married) who reportedly does legal work for Gov. Haley Barbour, a Republican stalwart. The move was, in a word, crappy—urging JFP Publisher Todd Stauffer to call for a Tollison-Bell Initiative, enabling voters to recall politicians who pull such insulting stunts. (Rep. Donnie Bell did the same thing in north Mississippi.) Here's hoping he has a happy honeymoon.
— Donna Ladd
Kenneth Stokes, Hinds County Supervisor-Elect
Will the Jackson City Council be the same without long-term Ward 3 Councilman Kenneth Stokes playing the contrarian and lining up community member after member to honor? Well, the meetings will certainly be shorter, and his replacement (not selected yet) may well attend the work and planning sessions, so there's that. Stokes has been a perennial candidate for the Hinds County Board of Supervisors, and he's headed there in January, adding even more animation to an already-wacky-as-heck board. His time on Council has been mixed: He brings up important issues such as what kids in his neighborhood do when they have nothing else to do, but he continually calls for unconstitutional and untenable measures (such as the city demanding that convenience stores have armed guards or enforce youth curfews, which tend to be more PR than useful). He lost a lot of our respect, though, when he became an inexplicable lapdog for former Mayor Frank Melton, making excuses even for the mayor's drunken sledgehammer joyrides with young men in tow. Really, Stokes?
— Donna Ladd
Robert Graham, Hinds County District 1 Supervisor
Few people would argue that Robert Graham fails to communicate. Before joining the Hinds County Board of Supervisors, he spent 35 years as a civilian employee of the Jackson Police Department, most recently as a public information officer.
Then, as county law enforcement agencies' chief ally on the board, Graham has had a central role in telecommunications procurement, everything from merging the city and county radio systems and purchasing warning sirens to implementing 911 mobile phone technology.
In May 2011, Graham and his emergency dispatch training company, Professional Dispatch Management 911, became subjects of a state auditor's investigation. Led by State Auditor Stacey Pickering, the investigation alleges that Graham owes the city of Jackson $45,736 in salary that the city paid him while operating his dispatch business. The attorney general's office is now looking further into the civil charges; Graham characterized the Pickering investigation as political and has not returned the money—or calls.
— R.L. Nave
Loss & Tragedy
Craig Noone, Chef
The loss of Parlor Market visionary and chef Craig Noone was a huge blow to Jackson and our progress. Craig never met a stranger, and his death in a car accident in October was devastating to his friends, family, customers and even strangers who recognized the energy he brought back to his hometown when he returned from Texas to start his dream restaurant downtown. Craig's vision is living on with the chefs he mentored, who are continuing the tough job of carrying on without him (please go support them at lunch, happy hour or dinner). He also wanted to start a Miracle League so that challenged kids could play baseball, which he loved. We pray it happens, and that his entrepreneurial spirit and innovative approach keeps reappearing in those he touched in his way-too-short life.
— Donna Ladd
James Craig Anderson and Deryl Dedmon
From all the available evidence, Deryl Dedmon and James Anderson had little in common. But the moment Dedmon climbed into his Ford F-250 pickup truck and plowed into Anderson, who died immediately, fate linked the two men forever. Sometime in 2012 Dedmon will defend himself against murder and hate-crime charges. Even if a jury convicts Dedmon of murder, he is unlikely to be put to death. In a display of compassion that was clearly not extended to their loved one, Anderson's family asked prosecutors to take the death penalty off the table.
— R. L. Nave
Gwendolyn Magee
Acclaimed textile artist Gwendolyn Magee succumbed to a long-term illness April 27, just two months after receiving the Governor's Award for Excellence in the Arts for her dynamic quilts.
Magee was a native of High Point, N.C., but she was a Jackson resident for 39 years. She stretched herself to the limits with her designs that ranged from abstract to narrative. Going beyond rows of squares, she created quilts with images of everything from undulating swirls to a black man hanging from a noose with the Confederate flag in the background. Magee, an African American, showed pride in her heritage by incorporating African fabrics and focusing on controversial subjects such as slavery and lynching.
Verses from the popular Negro national anthem, "Lift Every Voice and Sing" inspired a series of 12 quilts, and the subject matter ranges from inequality in the justice system to educational opportunities. These quilts were part of her exhibit called "Journey of the Spirit: The Art of Gwendolyn Magee" at the Mississippi Museum of Art in late 2004, and the companion book is still available at the museum's gift shop and website.
It is remarkable that Magee only started quilting as an adult when she wanted to make quilts for her two daughters. This goes to show that it is never too late to make an impact on the world.
— Latasha Willis
Diversions
Ole Miss Black Bear
The University of Mississippi officially replaced its old mascot, Colonel Reb, with a black bear in 2010. That prompted outrage in some circles, with state Rep. Mark DuVall, D-Mantachie, introducing a bill to bring Reb back. The bill never saw a vote in front of the full Legislature, and it died in committee. A statewide ballot initiative also failed to take root.
Going into 2012, the black bear is alive and well. Colonel Reb, on the other hand, is not so perky. And the football team? Let's just say it's rebuilding time.
— Bryan Flynn
Casey Therriault
Casey Therriault ended his senior season moving into the Jackson State University record book and leading the Tigers to a 9-2 season. JSU gave Therriault a second chance after he ran afoul of the law, and he made the most of it.
Known as the "White Tiger" by JSU fans, Therriault leaves the Tigers for a shot at the NFL. In his final season at Jackson State, Therriault threw for 3,791 yards with 27 touchdowns and 15 interceptions on 60 percent pass completions. Therriault also rushed for 107 yards and nine touchdowns. He was third on the team in scoring last season with 56 points.
— Bryan Flynn
DeVille Smith
Jackson's Callaway High School highly prized basketball star Deville Smith last season. He averaged 23.1 points, 3.6 assists and 3.5 rebounds per game as a senior, and was rated between a four or five star (rivals) prospect depending on the publication.
This year, Smith is playing for Mississippi State. His best game in college so far came against Tennessee-Martin. Smith scored 15 points on 7 of 10 shots in 26 minutes of playing time.
— Bryan Flynn
Michael Rubenstein
The heart and soul behind the Mississippi Sports Hall of Fame, Michael Rubenstein, passed away Dec. 1 at age 60 from a blood clot. Rubenstein was the first and only executive director of the Hall of Fame, created to protect and showcase the history of sports in our state. One of Rubenstein's proudest achievements is that the hall didn't operate on any taxpayer funds. He used privately donated funds to build the hall and run day-to-day operations.
Before the Hall of Fame, Rubenstein spent 16 years as sports editor for WLBT in Jackson. Rubenstein was a native of Booneville.
—Bryan Flynn
Big K.R.I.T.
Dropping a free "mixtape" that lands on several end-of-the-year best-of lists, making you a household name in the hip-hop world, would be enough to keep many artists content. But for Big K.R.I.T., it's not enough. Fresh off the heels of his "Return of 4eva" release, K.R.I.T. kept grinding by dropping a verse on the Roots' critically acclaimed concept album, "undun," and producing tracks for T.I.'s "Trouble Man."
K. R.I.T.'s dusty, soulful production bucks many trends and stereotypes of southern hip hop, while maintaining a southern authenticity that is so important to listeners. K.R.I.T. has put off the release of his self-produced Def Jam debut, "Live from the Underground," until next year to be certain that it lives up to his lofty standards. Big K.R.I.T. finishes out 2011 with one of the year's most intriguing releases behind him and one of 2012's most anticipated in front of him. It's a great place to be for a rapper from Meridian (whom Jackson has adopted as our own), which typically doesn't register on the hip-hop radar.
— Garrad Lee
More like this story
More stories by this author