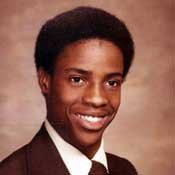 Congressman Smokey "Robinson" McBride: "Citizens of the Ghetto Science community: I am honored to host the premiere broadcast of 'Christmas at Clubb Chicken Wing Holiday Television Special.'
"The Ghetto Science Team's Christmas Holiday Committee produced this program to uplift the depressed spirit of the Ghetto Science community. They noticed homes in poor and middle-class neighborhoods are without Christmas lights because many unemployed homeowners faced mass foreclosures by the finance pimps. Because of the widespread summer layoffs, office Christmas parties have fewer employees.
"Corporations and purchased politicians thumbed their noses at the poor and middle classes—the scorned 99 percent all across America and the world—so they occupied public parks and town squares to protest corporate greed and blatant disenfranchisement of common people.
"To sum up this holiday season, I'll paraphrase singer Boz Scaggs: Poor and middle-class Americans have faced the sad truth, the dirty lowdown.
"Now it's time to drown our societal sorrows with some holiday cheer on the 'Christmas at Clubb Chicken Wing Holiday Television Special.' Look out for some great musical performances by the Vegetarian Church Tabernacle Christmas Choir and the Good God Gospel Quartet (from Rev. Cletus' Car Sales Church broadcast). The Sausage Sandwich Sisters will electric slide to music of the late Donny Hathaway's 'This Christmas.' Rev. Preacher, Sister Encouragement, and representatives from the Hanukkah and Kwanzaa Squads will share their special messages of peace, good will and culture.
"Happy holidays and welcome to 'Christmas at Clubb Chicken Wing.'"
More like this story
More stories by this author