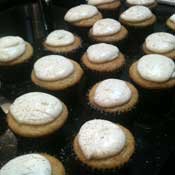 Lately it seems that the movement to "support local" is stronger than ever.From shops and restaurants, to local musicians and artists, to local farmers, the mantra is increasingly a part of our community's ethos. Along with this comes an elevation and celebration of craft and originality. We want things that have a story, whether it's a drink, a meal or a piece of art.
One of my favorite opportunities to support local comes each year by way of the Craftsmen's Guild of Mississippi (mscrafts.org). Its annual Chimneyville Crafts Festival at the Mississippi Trade Mart (held the last weekend in November) is a talent showcase for craftsmen and women from Mississippi and the region who are guild members. I always find unique gifts at the fair, but more than that, I enjoy hearing the stories from these artisans about the process of their craft. Many of them use old techniques, and to see them being fostered and preserved is special.
After talking with a woman demonstrating rug hooking, my mom and I decided to sign up for her next introductory class. I love a good craft project, and as a friend pointed out, hooking a rug while watching bad TV is a more productive activity with which to occupy one's hands than shoving Doritos in one's mouth. Plus, the number of jokes that come with going to hang out with "hookers" is well worth the price of admission.
If you're interested in learning more, check out P is for Primitive on the Square in Canton (141 W. Peace Street, Canton, 601-859-4252, pisforprimitive.com). If you missed Chimneyville, you can still find a wide variety of guild members' goods at the Mississippi Crafts Center (950 Rice Road, Ridgeland, 601-856-7546) or its satellite shop in Fondren Corner (2906 N. State St.).
Not far from Canton, in Gluckstadt, you'll find another locally produced product. Austin Evans and Richard Patrick are the brains behind Cathead Vodka, Mississippi's first legally distilled spirit. To celebrate the holidays, they hosted an open house on a recent Sunday evening. Enjoying the sounds of the Delta Mountain Boys while sipping a cider-based Cathead punch and noshing on barbecue in the distillery with a group of friends and supporters was a great way to welcome the season. Knowing that these two guys produce something that brings new meaning to the phrase "drink local" made it even more special.
Having enjoyed and appreciated the craft of others, I decided it was time to make something myself. My friend Karen Hearn constantly impresses me by tweeting about fancy cupcakes or a brioche that she's baking, so I decided to ask that she take me under her tutelage. This somehow morphed into the idea of a night of boozy baking (note that this is potentially hazardous due to heat and flame; undertake it at your own risk).
Over Prosecco (and then some Temperanillo), I followed along, lending a hand and taking notes as Karen led me through making peppermint bark and her special recipe for eggnog cupcakes. We enjoyed bubbly, a good soundtrack, baking and a mini dance party while the goods were in the oven.
All in all, it was a stellar evening, with the bonus that I got to share homemade goodies with friends and coworkers the next day. I feel it's the first of many such nights to come.
Whether you support the craft of others or embark on some of your own, it's all about keeping it local.
Follow Julie on Twitter @jcskipp.
More like this story
More stories by this author