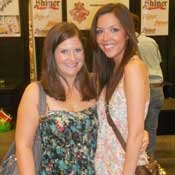 Maybe it's all those lit classes in college, but theme is important to me—whether it's in writing, in one's wardrobe for the season or for a party. The past few weeks offered plenty of opportunity for Jacksonians to submerse themselves in a theme-based activity for a night (or day), and I happily joined in.
Downtown residents and friends of downtown are well aware that one of our neighbors, Michael Rejebian (sometimes known as Tequila Guy) has a beverage of choice, and it is Patron. His commitment to the beverage runs so deep that for the past three years, he has invited friends to join in a celebration of National Tequila Day (yes, it's an actual day) on July 24. This year's celebration was bigger and better than ever. Thanks to social media, emails and word-of-mouth, the brew pub and patio at Hal & Mal's (200 Commerce St., 601-948-0888) were filled with friends and neighbors enjoying each other's company, food and the musical stylings of DJ Tony from Crazy Eddie's, along with the liquor of the night. Of course, this being the South, there had to be a Tequila Queen. Jane Halbert Jones took the title this year and was rewarded with a tiara, scepter and sash made of Patron tags. It was an awesome downtown night enjoyed by all. The lesson herein is: If you love something, turn it into a party! Jacksonians will be on board to turn out and celebrate with you.
    
Having sufficiently celebrated liquor, it was time for some wine, and Bravo! Italian Restaurant and Bar (Highland Village, 4500 Interstate 55 N., Suite 244, 601-982-8111) was there to help, offering half off all bottles for the last half of July. Wine at a discount is a theme I fully support, so my friends and I took advantage a couple of times—first, with some girls, where we enjoyed some sparkling rosé, and then with some lawyer and politico friends, where we enjoyed some full-bodied reds. This was a great way to try some bottles that we otherwise wouldn't. Cheers to turning out the wine cellar!
    
Next up: beer. Though I do not profess to be a beer drinker, I'm not one to avoid trying, and the Top of the Hops Beer Festival at the Jackson Convention Complex provided ample opportunity. My friend Amie Whittington was my accomplice, and being more well-versed in the beverage than I, she led the charge with gusto.
    
Most of the attendees were serious about making the rounds—as evidenced by their comfortable footwear and pretzels strung on necklaces (for sustenance or palate-cleansing, I assume). I was more along for the ride, noting various fashions and lack thereof (two words: fishing shirts) among the crowd and socializing. With demonstrations of food pairings and live music along with the beer tastings, there was plenty to enjoy besides the booze. But I did end up finding some that I liked; turns out I'm a fan of stout.
    
It's been fun going all-out and breaking away from my usual cocktails, thanks to these events. While I have a feeling I'll slip back into my normal habits, themes are always a good way to try something different. Here's to finding your own, even if it's just for a night.
Follow Julie on Twitter @jcskipp.
More like this story
More stories by this author
Like independent media outlets around the world, the Jackson Free Press works hard to produce important content on a limited budget. We'd love your help! Become a JFP VIP member today and/or donate to our journalism fund. Thanks for considering a JFP VIP membership or one-time support.