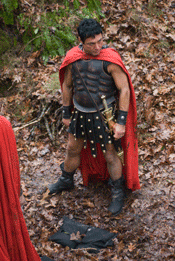 Man-about-town Edward Saint Pé is a vibrant personality who eschews labels. His accomplishments range from TV weatherman to business entrepreneur to moviemaker to film actor. Most recently, he's added to the list founder of the Mississippi Film Institute, which hosts the first-ever Mississippi International Film Festival and Halloween Fest.
Just because it's the first, though, doesn't mean the community is taking the festival lightly. The sponsorship list for the festival shows complete buy-in from the metro Jackson business community—remarkable given the current economic climate. Saint Pé, originally from the Bayou near New Orleans, is the driving force behind it; he incorporated MIFF in 1998 but waited until 2010 for the launch.
"I got into television by going to New York to act and ended up accidentally getting a job at NBC," Saint Pé says, reminiscing about how all this began for him. When he decided to come to Jackson, Saint Pé worked his way from delivery boy at WLBT to on-air talent.
"I've been on the air every since," he says.
But Saint Pé always wanted to work in film, and a film festival was part of his larger vision. After his three daughters grew up (one is a teacher in Brandon, and the other two are in college), the film lover decided this was the right time to move forward, and he's doing so at warp speed.
Within two years, Saint Pé wrote, produced and starred in two short films: "Orbus Romanus," a fantasy picture with Romans, a witch and a new twist on history and "Zeitbombe!," an ambitious and redemptive U-boat story that won best film in the Pelican D'Or Short Film Festival in New Orleans.
"I love history," Saint Pé says. He admits, with a Cheshire-cat grin, that he has several more historically based pictures in his pre-production queue.
Saint Pé's performance in "Orbus Romanus" led to him being cast as the villain in Tom Stout's "The One Warrior," a low-budget SAG feature film written by David R. Prior and shot last spring.
"I wore my 'Orbus Romanus' costume for the audition and read the lines in German," Saint Pé says. His talent and flare for the dramatic won him the part. After working for at least 11 shoot days and building a good rapport with "The One Warrior" production team, Saint Pé teamed with Prior to write the feature-length script for "Orbus Romanus."
This summer and fall, while juggling his work as CEO and president of WeatherVision and WLEZ-FM, Saint Pé ramped up his efforts on the film festival.
"It's been a wonderful but exhausting experience," he says. "I've learned a lot from being pushed outside of my limits."
He hopes to push filmgoers beyond their limits, too. That's one of his biggest hopes for the festival, in fact.
Film, Saint Pé says, allows people of varying cultures and background, who don't speak the same language, share experiences. "Everyone's going to be sitting in the room crying at the same time or laughing," he says. "Film cuts to the core of truth, and this is a good reason to bring everyone together."
The film festival founder further says the greatest learning experience for him has been realizing how much different peoples want to be part of a unified, cohesive thing. "I hope that's what it is when we look back on it at the end of it all. And hopefully, it will only get bigger and better," he says.
All the festival's film screenings are at the Davis Planetarium in Jackson, which comfortably seats more than 190 people.
Throughout the weekend, blocks of films are dedicated to Mississippi filmmakers. Those films include: "Through My Brothers Eyes," "The Goodbye," "Dealing," "The Collectors," "Zeitbombe!," "Crimes Against Pizza" and "Murderabilia."
The schedule also includes a talent showcase organized by agent Sharon Ward, an acting workshop led by Veleka Gray, a filmmaking workshop with Don Tingle, incredible music—including Captain Clegg and the Night Creatures, Storage 24 and the Rockabilly Vampires—street vendors, a Halloween ball and an awards ceremony with performer Rhonda Richmond.
The festival kicks off Thursday, Oct. 28, at 1 p.m. with kid-friendly films, and children from the Mississippi School of the Arts will attend. Thursday evening opens with a Choctaw celebration and the premiere of "The Choctaw Journey," which tells the story of four college friends on an overnight camping trip to research the Native American Trail of Tears.
"Their story, as much as any story, needs to be told," Saint Pé says about the film about the Choctaws. "(Native Americans') land was taken, and they were sent into exile. All of the tribes were sent to Oklahoma, but there was a portion of the Choctaws that refused to go. That's how we have the Mississippi Band of Choctaw Indians today. ... People need to hear that story."
Friday night features a tribute to India and the blues; Saturday offers tributes to Spanish and Jewish films. Halloween-themed movies are part of the mix and include the world premiere of Mitesh Kumar Patel's film "A Man in the Maze."
Saint Pé says he worked at putting the festival together like it was a film production. He brought together a powerful group to serve on the advisory board, including: Jason McCleave (CFO of the Mississippi Film Institute); state Sen. John Hohrn, D-Jackson; Candice Brewster; Karma Cloud Montagne; Cary L. Spence; Bill Wilson; Sharon Ward, Linda Gay Wilson; Amile Wilson; David Hopper; Chris Mims; deborah Rae Wright; J. Neal Bloomer; and Malcolm Sheppard.
The focus on cultural perspectives is what will make Saint Pé's first film festival different than others. "It's about one world through film and how we can come together," he says.
Writer Anita Modak-Truran directed "Crimes Against Pizza," featured at the Mississippi International Film Festival.
More like this story
More stories by this author
Like independent media outlets around the world, the Jackson Free Press works hard to produce important content on a limited budget. We'd love your help! Become a JFP VIP member today and/or donate to our journalism fund. Thanks for considering a JFP VIP membership or one-time support.