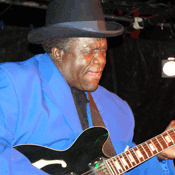 Through decades of change and evolution in the Jackson music scene, Edward "King Edward" Antoine has held his ground. Planted firmly in his chair, King Edward picks his guitar and shares his music all over the country several nights a week, from Chicago to Louisiana to Texas and venues everywhere in between.
A Louisiana native, King Edward grew up among 12 brothers and sisters, in a family full of talent. After teaching himself to play guitar, the musician moved to Chicago for 15 years, performing at the Regal Theater and touring with his brother Nolan Struck and musician McKinley Mitchell.
The Mississippi Blues Trail has honored King Edward with three blues markers in Jackson: the Subway Lounge, the Queen of Hearts and the Ace Records marker. He has played with blues legends including Muddy Waters, Howlin' Wolf, Buddy Guy and Junior Wells and has opened for B.B. King.
King Edward spoke to the Jackson Free Press by phone.
You come from a family of musicians.
Most of my kin folk were musicians. My cousin and all them were playing Zydeco. I played with Clifton Chenille when I was 17. When I was 18 or 19, I got my own band and played in Louisiana and Texas. It was hard back then in the '50s; I started playing in '58. I was in Chicago in the '60s. I met all these guys up there. We toured with B.B. King for a little while doing some school things for the kids. I got to know B.B. and Bobby Bland really well. I was already a good blues player, but I learned a lot when I went to Chicago. I worked in a recording studio. Tyrone Davis and all them were recording there. My brother and I did an album for Ace Records and called it "Brothers to Brothers." I did "Mississippi Roots" with Ace Records.
When did you come to Mississippi?
I moved back to Mississippi in '75 and ran across Sam Miles. We started out on Farish Street at Richard's Playhouse, and we played at the Queen of Hearts on Martin Luther King (Avenue). Finally, I went to play at the Subway. Jessie Robinson went in there, and then I took over. We did "The Last of the Mississippi Jukes" there. We did some work with Fingers Taylor.
I've been in this business for so long I can't tell you where I've been. I've been everywhere, but my best music was right here. Mississippi blues artists are moving back here because the blues is coming back.
How has the blues culture developed and changed in Mississippi?
This is the problem with the blues: When we were coming up in the '60s and '70s, we got a lot of radio airplay. Then the radios stopped playing the blues. ... They went on to R&B and disco. The younger generation didn't know what the blues was all about.
A lot of these young folks come to me now, and I just tell 'em where it came from. A lot of them thought it was slavery music, and it wasn't. Blues is just a problem people go through. The young folks are really getting into the blues. We have a blues society at Hal and Mal's, and a lot of black and white folks are getting into it and getting along.
What about the old Subway days?
I came down here in '63 and did a show. Things were rough. Blacks and whites couldn't get along, so I left. I came back in '75, and the subway had a mixed crowd. We did everything there. I couldn't believe how people were getting along. We'd start at 12 at night and play until 4 or 5 in the morning. It made me happy to see how people got back together. One crowd would come in around 12, and later another crowd would come in. Eddie Cotton played at the Subway with me for two or three years. I taught him how to play the blues. Eddie was the first person to play at 930 (Blues Cafe), then Jackie Bell, and then me.
What it's like being on stage?
I feel like I'm supposed to satisfy the customer. A lot of people have to drink to play. I get the "feeling" when I play my first song. That's what happens when you've been doing it as long as me. When I start playing all the music I grew up with, it all comes back.
What about the business side of it?
We didn't know the business early on as far as contracts. The companies were taking advantage of that. We never got rich off it because we were giving away our talent.
What do you enjoy doing in your spare time?
A lot of times I'm practicing. I think I'm going to record this new album in the Delta--up in Clarksdale. I'm going to redo a lot of these old blues songs people forgot about and put it on this new album.
King Edward is at Underground 119 Saturday, Nov. 20, at 9 p.m. and at 930 Blues Cafe Nov. 26 and 27 at 10 p.m.
More like this story
More stories by this author