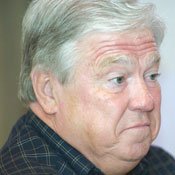 It's the "liberal media elite" that is to blame for passage of the health-care bill, according to Gov. Haley Barbour. Speaking on ABC's "This Week" yesterday, Barbour insinuated that media coverage has been uncritical and biased, reports The Hill.
"I mean, since this thing passed last weekend, we have seen the longest wet kiss in political history given to the Obama administration by the liberal media elite, and every day that goes by, it gets sloppier," Barbour said.
The governor's comments drew laughter from another guest on the show, Pennsylvania Gov. Ed Rendel, a Democrat.
"I don't know what channels Haley watches, but that's a lousy wet kiss," he said. "It's getting pounded in the media; a lot of the media is pounding the bill."
Barbour also compared the bill to forcing Americans to buy guns on the show, reports Politico.
"I do not believe the United States government has a right, it has the authority or power to force us to purchase health insurance any more than, in the name of homeland security, they can force every American to have to buy a gun," Barbour said.
The governor has repeatedly stated that he will join other states in suing the federal government over the constitutionality of the bill, regardless of whether Mississippi Attorney General Jim Hood leads the charge for the state. It's a move former Reagan Solicitor General Charles Fried dismissed.
"Anybody who proposes something like this is either ignorant—I mean, deeply ignorant—or just grandstanding in a preposterous way. It is simply a political ploy and a pathetic one at that," Fried told ABC.
Previous Comments
ID

156948

Comment

"Anybody who proposes something like this is either ignorant—I mean, deeply ignorant—or just grandstanding in a preposterous way. It is simply a political ploy and a pathetic one at that," This sums up my sentiments exactly.

Author

Renaldo Bryant

Date

2010-03-29T11:17:47-06:00
ID

156949

Comment

It was not the media to blame. It was a group of Democratic lawmakers who decided to stand tall against special interests and pass it.

Author

golden eagle

Date

2010-03-29T11:39:33-06:00
ID

156950

Comment

If you haven't seen it, read Republicans Once Backed Health Insurance Mandate They Now Oppose. Here's a money quote: "The idea of an individual mandate as an alternative to single-payer was a Republican idea,'' said health economist Mark Pauly of the University of Pennsylvania's Wharton School. In 1991, he published a paper that explained how a mandate could be combined with tax credits -- two ideas that are now part of Obama's law. Pauly's paper was well-received -- by the George H.W. Bush administration. "It could have been the basis for a bipartisan compromise, but it wasn't,'' said Pauly. "Because the Democrats were in favor, the Republicans more or less had to be against it.''

Author

Ronni_Mott

Date

2010-03-29T12:05:07-06:00
ID

156955

Comment

Bet the lamestream media won't report that.

Author

golden eagle

Date

2010-03-29T14:46:46-06:00
ID

156967

Comment

Haley's gotta be kidding me. His latest grandstandings on national media have been lightning storms for whatever political future he may have (god forbid). it seems to me that constituents and allies of the Right have evolved from sticking to talking points to straight out Teddy Ruxpinisms when it comes to any kind of vision. To top it all of, financial scandals, those secret documents of GOP strategies that incite faux-fear amongst constituents...all of this comes out...what i am disappointed in is the incapability for the Left to capitilize on this moment. Perhaps it's for the best, we have entirely too much work to do. But if the shoe was on the other foot, better believe it'd be a whole different story. Only national media lighting into GOP with both barrels = jon stewart & theonion.com

Author

sabirius

Date

2010-03-30T08:41:53-06:00
ID

156970

Comment

MSNBC does a great job at covering Republican shenanigans, but even beyond that, it doesn't get a lot of traction in other media.

Author

golden eagle

Date

2010-03-30T10:23:04-06:00
ID

156973

Comment

Am I the only one who thinks it's funny, in a sad way, that Republicans are suddenly proclaiming that they are "going to read the health reform bill." This is coming from the same people who were declaring gloom and doom and socialism and Stalinism before it passed, without apparently realizing that it is filled with their own ideas. If they were a bit smarter about it, they could have taken credit for the thing. Now, they're going to look pretty silly doing that come November with those YouTube clips of them railing against Stalinism. It's just such absurd politics as Reagan's man says in the piece above. I just wish people would take time to know what they're talking about before passing stuff on, especially being that they then become part of the frenzy that has crazy people around the country ready to lock-and-load at Palin's "targets." Folks, she's an Independence Party type -- don't you understand what that means? She wants to lead an overthrow of the U.S government in her leather dress, by any means necessary. These are dangerous times, and they are being fueled by ignorance, as Mr. Fried so elegantly tells ABC above. And, now, Barbour is falling right in behind her. HIs corporate Republicanism, helped along by his wink-wink southern strategy is bad enough, but he is helping embolden some bad characters by playing Palin's game. Even I thought Barbour was above this.

Author

DonnaLadd

Date

2010-03-30T14:46:04-06:00
ID

156974

Comment

I put nothing under Barbour. He may turn out to be the worst governor we've had in the post-segregation Mississippi. Come to think of it, in this day and age, I put nothing underneath anybody.

Author

golden eagle

Date

2010-03-30T15:48:56-06:00
ID

156989

Comment

Barbour the worst governor? Total nonsense. He's easily the best since William Winter and probably the best in our state's history. With any luck he'll soon be occupying the White House.

Author

kudzuking

Date

2010-03-31T12:45:37-06:00
ID

156993

Comment

Kudzu, I'm going to write you privately for a sample of whatever it is you're smoking. Must be good stuff! ;)

Author

Brian C Johnson

Date

2010-03-31T13:38:11-06:00
More like this story
More stories by this author
Like independent media outlets around the world, the Jackson Free Press works hard to produce important content on a limited budget. We'd love your help! Become a JFP VIP member today and/or donate to our journalism fund. Thanks for considering a JFP VIP membership or one-time support.