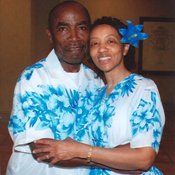 Linnie Gordon and Charlie T. Hubbard believe in patience and letting things happen as they may. In their case, patience and time proved to be a gift. While they were dating in September of last year, they began regularly attending seminars at the Holiday Inn in Clinton (now held at the Hampton Inn in Clinton) that showed them ways to have a healthy relationship and marriage. During one session, the moderators asked the couples various questions pertaining to their relationships. One question asked them their feelings about being married.
"I told him, ... 'We can't answer that because we aren't married,'" Linnie says, "and he told me, 'Let's get married, then.'"
Linnie, 59, and Charlie, 65, are retired and reside in Raymond. Linnie retired from the State of Mississippi Department of Finance and Administration, and Charlie retired from the Raymond campus of Hinds Community College, where he was a vocational technical instructor and counselor. Between them, they have six children and are proud grandparents of eight grandchildren.
Linnie graduated from Bentonia High School, attended the University of Mississippi and Jones Business College and is currently enlisted in the Air National. Charlie attended Alcorn State University, enlisted in the Air Force and completed his education at Ole Miss.
The couple met at Ole Miss in 1971 while Charlie was a graduate student and Linnie was an undergrad.
"We were off and on a lot because of where we were in our lives," Charlie says. During this time, Charlie was in the army and had to travel a lot, sometimes even going to foreign countries. "We spent a lot of time in the car. Linnie would ride with me to different places, and that's how we got to know each other," Charlie says.
Eventually, Charlie decided to pursue his doctoral degree in Education Administration and Linnie had to decide whether she wanted to add the pressure of a relationship to his educational pursuits.
"We believed that if we were meant to be, we would get back together. She gave me time to focus on my education," Charlie says.
"When you really care about someone, you don't want to be a hindrance," Linnie adds. "I never wanted to be that. I wanted him to explore all his opportunities without me being an obstacle."
After 28 years apart, the couple reunited in 2003 and dated until their marriage on Easter Sunday, April 4, 2010.
Linnie was passionate about having an Antebellum themed outdoor wedding with pastel colors.
"I like the antebellum era with the big dresses," she says.
Linnie, a naturally caring person, wanted to make sure all of her guests would be comfortable at the wedding. "I checked the almanac and saw that there would be bad weather, and I didn't want our guests outside during the wedding, so we had to choose an indoor venue." They decided on the Regency Hotel and Conference Center on Greymont Avenue because everything could be held there: the rehearsal dinner, the wedding and the reception. "We had everything in one place, so we could have the freedom to enjoy ourselves and dance," Linnie says.
Because the couple has different religious traditions (Charlie is Methodist and Linnie is a Seventh Day Adventist), they opted to have a non-traditional ceremony, which included plenty of laughs as the bridesmaids and groomsmen danced down the aisle to classic R&B like "My Endless Love." Decked out in purple, the wedding party consisted of the couples' children, other family members and friends.
Charlie's pastor, Rev. Robert L. Cook of Seven Springs United Methodist Church officiated the wedding. Because Linnie's father is deceased, one of her sons escorted her down the aisle. She wore a cloak over her wedding dress, and when she met Charlie at the top of the aisle, her son "de-cloaked" her. They exchanged traditional vows in front of their 130 guests.
"I wanted my wedding to be everything antebellum. And in that era the women wore cloaks to their social events and parties," Linnie says.
Perhaps because of their history together and the length of time they dated, neither had any pre-wedding jitters. "We've known each other for so long, I had nothing to be nervous about. We knew we were doing the right thing," Charlie says.
Following the wedding, guests were served half Cornish hens, broccoli with lemon-butter sauce, rice pilaf, rolls and assorted cheesecakes. Charlie and Linnie even had vegetarian options. Instead of having one large cake, they served petit fours shaped like Easter eggs.
Life as a married couple is as special as it was before they joined in matrimony. They live simply. "Being married is just a name change; we are living just like we were before. We still talk to each other, and we still treat each other the same," Linnie says.
With Charlie being an avid outdoorsman and Linnie enjoying the comfort of the indoors, the couple compromises just like they did in their early years of dating—by travelling. "It's something we've done throughout the course of our relationship. We grew up with a lot of family responsibility, so that makes simple things nice. We find beauty in simple things," Charlie says.
Although Charlie and Linnie enjoy travelling together, they didn't catch the first flight out of the country following the wedding. They are planning a honeymoon trip in October and are still working out the destination details and plans.
The couple has good advice for people who are still single. "There's hope for everyone; just be patient. Make sure you're marrying for the right reason, because no matter how old or young you are, true love never wears off," Linnie says.
"Don't rush marriage," Charlie adds. "Take time to observe your significant other. Make sure y'all are yoked by what is most important, and everything else will fall in place."
Vendors
Venue and Catering: The Regency Hotel & Conference Center (400 Greymont Ave. 601-969-2141)
Photography: Larry Clay (based in Florida)
Videographer: Cassandra P. Taylor
Florist, Wedding Coordinator and Wedding Program Designer: Joyce Clay (based in Florida)
Cake: Campbell's Bakery (3013 N. State St. 601-362-4268)
Wedding Party Attire: Fashions by Margaret (108 Byram Business Center Dr., Byram 601-373-0004)
More like this story
More stories by this author