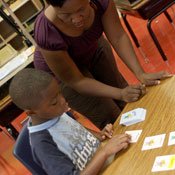 Early-childhood education in Mississippi is the big engine that couldn't: Despite reams of documentation showing its economic and educational benefits, pre-kindergarten has not attracted the political support—and public funding—in Mississippi it has in many neighboring states.
Lt. Gov. Phil Bryant is the latest state politician to recognize the benefits of early-childhood education, announcing the formation of a panel on pre-kindergarten July 15. Bryant's committee focuses on Mississippi Building Blocks, a one-year-old program that is using $10 million in private-sector contributions to improve the quality and consistency of early childhood care in the state.
Bryant's proposal is similar to a bill authored by Rep. Cecil Brown, D-Jackson, that passed the state House of Representatives this year before dying in committee in the Senate. While Bryant's committee is focused on emulating Building Blocks, Brown called for a more ambitious and broader goal: a universal pre-K program for the state. He will serve on the lieutenant governor's panel,
The universal program could include a patchwork of private, public and public agencies, Brown said, so long as it coordinated their efforts.
"A lot of different groups are out there working on early childhood education, but there's no overall plan, and I think that's just a mistake," Brown said. "I think we've got to begin that conversation."
Building Blocks works with private childcare centers, sending mentors to train early childhood teachers and business consultants to help centers manage their finances. The program estimates that 80 percent of the state's 4-year-olds are in some form of licensed childcare facility, meaning that an expanded version of the program could reach many children without creating new pre-schools.
A broader program that targets both 3- and 4-year-olds, as many early childhood advocates recommend, would require more infrastructure. A Southern Education Fund report found that in 2008, roughly 47 percent of the state's 85,307 3- and 4-year-olds were receiving no preschool at all.
Brown is unsure how the state should extend pre-K to those children, but he knows the benefits of a broader pre-K effort easily outweigh the costs.
"If it costs a lot of money, and we can't do it right now, that's OK," he said. We've got to figure out when we can do it. I've heard people talk about this for more than 20 years, and we haven't done anything."
A statewide pre-kindergarten program could offer economic returns of between $7 and $12 for every $1 invested, the Southern Education Fund report found.
Those returns come in many forms, including reduced educational costs from a decrease in students repeating grades or receiving special education, lower rates of teen pregnancy and improved children's health. Most significantly perhaps, children in pre-school are increasingly likely to end up as productive contributors to the economy.
Evidence from the Chicago Longitudinal Study, which has followed more than 1,500 children since 1986, showed that children who attended pre-K were 29 percent more likely to graduate from high school.
More like this story
More stories by this author
Like independent media outlets around the world, the Jackson Free Press works hard to produce important content on a limited budget. We'd love your help! Become a JFP VIP member today and/or donate to our journalism fund. Thanks for considering a JFP VIP membership or one-time support.