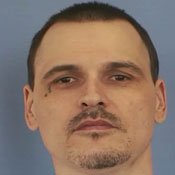 7:58 p.m. UPDATE: MDOC pronounced Burns dead at 6:50 p.m.
6:37 p.m. UPDATE: WLBT is reporting that the U.S. Supreme Court has denied Burns' petition.
The U.S. Supreme Court is reviewing condemned Mississippi inmate Joseph Burns' petition, which has delayed his execution.
Speaking to reporters gathered at Parchman Penitentiary, Mississippi Department of Corrections General Counsel Leonard Vincent indicated that Burns is revisiting issues that Mississippi has already litigated, two of which concern the lack of a psychiatric exam to determine whether Burns is sufficiently intelligent or mentally stable enough to be put to death.
Burns has repeatedly said neither Mississippi nor MDOC has given him a psychiatric examination; however, Vincent said the state couldn't examine Burns without his lawyer's OK---which, apparently, his post-conviction defense counsel, Glenn Swartzfager, has not provided.
The final reason for appeal is Burns is raising with the U.S. Supreme Court is one of mitigation: Burns did not put any witnesses in his defense on the stand during his trial.
Burns has used all three issues in previous appeals, Vincent said, although preliminary information he received from Sonny White in the attorney general's office indicated that the issues were new.
After a brief conversation with White during the scheduled 4:45 p.m. press conference, Vincent corrected himself and saying the issues were not new. No court would take up new defense issues at this late date, Vincent said.
MDOC Commissioner Chris Epps said that Burns remains talkative and cooperative, but while he previously believed Burns was "ready to go," he now sees Burns as hopeful for a stay of execution. Epps said that while this latest appeal may delay the execution by one or two hours beyond the 6 p.m. scheduled execution, he believes it will go forward this evening.
"The A.G.'s office is optimistic that there will be an execution tonight," Epps said.
Epps said that Burns requested and ate his "final" meal of roast beef and turkey sandwiches and Coca Cola and has declined a sedative and shower.
"He never talked about anything his lawyer has filed," Epps said, although he hesitated to speculate on this newest strategy. "We really don't know, at this point, what the United States Supreme Court will decide."
Earlier today, Gov. Haley Barbour denied Burns' clemency. "Having reviewed the petition for clemency, I have not found any justification to interfere with the carrying out of Mr. Burns' sentence. I will not substitute my judgment for that of the courts, which have considered the matter," the governor said in a statement.
Burns received a death sentence for the 1994 robbery and murder of Tupelo hotel manager Floyd Melvin "Mike" McBride.
Among the execution witnesses today are Burns' mother, Imogene Henry, and a sister, Delana Loveless. Other witnesses are MSP Chaplain James Whisnant, Burns' post-conviction attorney, Glenn Swartzfager. Three daughters, Jessica Burns, Courtney Moody and Laken Sides visited with Burns between 1 p.m. and 3 p.m., but they are not on the execution witness list. Reportedly, the three girls are his only children, and all are younger than 18.
Representing the McBride family are Kay Gordon, the victim's sister, and John Criddle, McBride's nephew. Other witnesses are state Sen. Merle Flowers, R-Desoto County (representing the governor's office), Lee County Sheriff Jim Johnson and four members of the media: Jack Elliott, AP; Jimmie Gates, The Clarion-Ledger; Keith Hill, Mississippi News Network; and this reporter.
Mary Kathryn Adams and Brad McMullen of WAPT were scheduled as witnesses; however Suzanne Singletary of MDOC informed reporters the pair was in a traffic accident on their way to Parchman and that one of them had been taken to the hospital. No further information is available at this time.
Previous Comments
ID

158782

Comment

Barbour's statement: Is there really no middle ground? Barbour pardons (or such) a string of men who brutally killed wives and girlfriends, but sees no reason not to execute this man? I just don't understand.

Author

DonnaLadd

Date

2010-07-21T19:07:59-06:00
More like this story