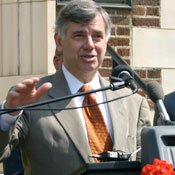 David Watkins
Visionaries are dreamers, but when a dreamer actually makes his dreams reality, watch out. We are beyond lucky to have that kind of a leader in our midst: developer David Watkins. Last year, he gave the city arguably one of the best Christmas presents ever: the reopening of the King Edward Hotel. The ubiquitous "they" said it couldn't be done, but he (and his partners) did it. That achievement might have been enough for some, but not for Watkins, because he sees more. He sees all that Jackson can be. Even better, he has the gift to inspire others to share his passion for Jackson and to become a part of bringing that vision to life. Stay tuned: There's much more to come from this visionary.
—Julie Skipper
Second: Ben Allen / Third: Brad "Kamikaze" Franklin / Good Showing: Austin Richardson, Leland Speed and Jeff Good.
Best Change to the City and Best Project Under Construction
The King Edward Hotel
The recently renovated King Edward Hotel—now a Hilton Garden Inn—won for both the Best Change to the City and Best Project Under Construction. Yes, the old King Edward, dilapidated pigeon roost and punch line to bad jokes about Jackson, is now one of the most beautiful landmarks gracing downtown, right alongside Union Station, the Electric 308 Building and that comfy gutter behind Hal & Mal's that catches us as we topple over from one too many vodka shots. It's a real hotel again, complete with a beautiful lobby and a bar that looks out on the storefronts across the street already slated for restaurants and services worthy of being next to such royalty. David Watkins: We don't know how many ways we can thank you.
—Adam Lynch
Best Change to the City
Second: The return of Mayor Harvey Johnson Jr. / Third: The opening of the Convention Center / Good Showing: Fondren; Downtown; Frank Melton no longer being mayor.
Best Project Under Construction
Second: Children's Museum / Third: Farish Street Entertainment District / Good Showing: Standard Life Building
Best Karaoke DJ, Best Local Photographer and Best Local Visual Artist
Josh Hailey
It's a hat trick, a trifecta, a triple play for that energetic sprite of a man with the fitting last name who wears so little to the Best of Jackson party every year. Josh Hailey zooms across his beloved Jackson at warp speed, trailing high creativity and prolific output. He's much better than the once-in-a-lifetime comet because he's here, grounded in the now. Hailey likes to have a new hobby every year; that's how he got into the karaoke deejay gigs, as "KJ Joosy" on Wednesdays at Ole Tavern, 10 p.m. until 2 a.m. It started with Cory Drake. Hailey saw him at a house party and realized he wanted to sing and dance. Now he works with Drake's company, Full Frontal Entertainment. Hailey's karaoke DJ goals are simple—get people singing and dancing. His karaoke adopts themes, like December's Hanukkah and Christmas costume parties, and his favorite: "[T]he New Year's Masquerade Ball based on David Bowie's 'Labyrinth.' It's my favorite movie!" With typical oomph, he told me: "I want people to relax, have a good time, come out, and quit being so domesticated in Jackson, Mississippi, damn it! Let it all hang out, damn it! Triple damn it with five exclamation points!" Thankfully, Hailey has enough energy for his thriving photography business, doing work for magazines, agencies and weddings. Then there's his visual art of a little bit of everything, "buildings to boobies," as he put it. On Feb. 4, he's part of a group show at Fondren's Fischer Galleries: Nudes. —Lynette Hanson
Best Karaoke DJ
Second: Matt Collette / Third: Angela Pittman / Fourth: (tie) Todd Stauffer; Dale Sandifer
Best Photographer
Second: Will Sterling (731 S. Pear Orchard Road, Ridgeland, 601-982-3032) / Third: Robby Followell (304 Jefferson St., Clinton, 601-488-4423) / Good Showing: Chris Grillis (2727 Old Canton Road, 601-362-9975), Christina Cannon (2906 N. State St., Suite 107, 601-713-1224), Thomas Beck (Thomas Beck, 601-85BECK1)
Best Visual Artist
Second: Wyatt Waters (307 Jefferson St., Clinton, 601-925-8115) / Third: Ginger Williams-Cook ([e-mail unavailable]) / (tie) Fourth: Erica Flannes (Ink Spot Gallery, 300 W. South St., 601-352-4700); Anthony DiFatta (anthonydifatta.net)
Best Stage Play and Best Local Live Theater
"Cat on a Hot Tin Roof," New Stage Theatre
1100 Carlisle St., 601-948-3533
The theater darkens, and as the curtain opens, you catch your breath in anticipation of the journey you are about to embark on at New Stage Theatre. For its third year in a row, New Stage Theatre took top honors for Best Live Theater and Best Stage Play. Not only do New Stagers continue to amaze theatergoers with their annual favorite, "A Christmas Carol," but they provide stellar performances in other productions. Last season opened with "Gutenberg! The Musical!" and continued with first place winner, "Cat on a Hot Tin Roof." No doubt, later this season they will capture the fascination of children's imaginations with their matinee series, "A Year With Frog & Toad." You can take a journey with New Stage Theatre and "Boeing Boeing," through Feb. 7.
—Eileen Eady
Best Local Live Theater
Second: Fondren Theater Workshop (4094 Pine Hill Drive, 601-982-2217) / Third: Black Rose Theatre (103 Black St., Brandon, 601-825-1293) / Good Showing: Brick Street Players (Fairmont Street, Clinton, 601-925-9285); Thalia Mara Hall (225 E. Pascagoula St., 601-960-1537)
Best Stage Play
Second: "Why Am I Single?" (J. Lee Productions) / Third: "Monster Monologues" (Fondren Theater Workshop) / Good Showing: "A Christmas Carol," (New Stage Theatre)
Best Radio Personality, Best Radio Station:
Nate and Murphy, Y101 265 Highpoint Drive, Ridgeland 39157, 601-956-0102
If it seems like Y101 monopolizes the "Best Of Jackson" radio awards, it's because they have. This is the station's fourth year to take the "Best Radio Station" award. As if that's not enough, they also own the top two spots on the "Best Radio Personality" list: Winners Nate and Murphy managed to capture the hearts—or at least ears—of Jacksonians after teaming up barely six months ago. When asked what is responsible for the duo's chemistry, Clinton native Nate West cites their differences. "Basically, I'm like an everyday kind of guy," West says, characterizing Murphy as "more the intellectual." Perhaps Tim Murphy, a transplant from Virginia, captures the spirit of the duo's success most succinctly: "Really, we just like having fun and entertaining people."
—Brent Hearn
Radio Personality
Second: Carson (Y101) / Third: Little Dylan (Star 93.5) / Good Showing: Brad Stevens (Rock 93.9); Paul Gallo (97.3 Super Talk Mississippi); Scott Steele (U.S. 96.3)
Radio Station
Second: Rock 93.9 (222 Beasley Road, 601-957-3000) / Third: Mississippi Public Broadcasting (3825 Ridgewood Road, 601-432-6565) / Good Showing: WMSI, MISS 103 (1375 Beasley Road, 601-982-1062); Jack FM, WWJK, 94.7 (222 Beasley Road, 601-957-3000); Star 93.5 (100 S. Jefferson St., Clinton, 601-925-3903)
Best TV Station, Best News Anchor
WLBT, Maggie Wade
Mississippi's third oldest television station has come a long way from its position during the Civil Rights Movement, when it framed itself as the city's leading proponent of segregation by ignoring civil-rights coverage from its own NBC news feed. Today the station boasts some of the most recognizable local personalities, including Bert Case, Howard Ballou and, of course, the perennial Best News Anchor in Best of Jackson: Maggie Wade. Jackson Free Press readers can't avoid enduring shows like "30 Rock," while "The Office" is practically a household requirement these days. Our readers find the station a reliable source of local news on the weeknights—and its weekend news teams a reliable source of snafu humor, rumor has it.
Is it really a surprise that news reporter and anchor Wade took the prize in the JFP Best News Anchor category? Wade and her adorable little 12-year-old face and intrinsic charm have always proved the envy of Jackson Free Press reporters, who never seem as capable of getting sources to answer the difficult questions. Something about her character unbalances you when that microphone of hers comes out, and you wind up 'fessing up about the cock-fighting ring you run in your backyard before you even realize you've let it all slip for those adorable chipmunk cheeks.
—Adam Lynch
Best TV Station
Second: WAPT / Third: WJTV / Good Showing: FOX
Best News Anchor Second
Howard Ballou (WLBT) / Third: Bert Case (WLBT) /w Good Showing: Scott Simmons (WAPT); Brad McMullan (WAPT); Megan West (WAPT); Linda Allen (WJTV).
Best Barista
Cody Cox, Cups Fondren
2757 Old Canton Road, 601-362-7422
Cody Cox polls a frothy first place in the Best Barista category. His fellow Cups Fondren barista and past winner Eamonn Contrell takes second place. Cody is a personable, straight-shooting caffeine dispenser, mostly found on the evening shift—a good match for Cox's musician bio-rhythms. Is his barista persona in some way reflective of his twin idols: rugged Johnny Cash and poetic Jack Kerouac? Yes: Cody is your man in black (leave room for cream), but beneath it all, he has the heart of someone as sweet natured as molasses lemonade. Lyrical references borrowed from Cody himself with (assumed) permission.
—Ed Payne
Second: Eamonn Cottrell (Cups Espresso Café, 2757 Old Canton Road, 601-362-7422) / Third: Joey Tannehill (Cups Espresso Café, 1855 Lakeland Drive, 601-981-9088) / Good Showing: Byron Knight, Sneaky Beans (2914 N. State St. 601-487-6349)
Best Church Choir
First Baptist Church, Jackson
431 N. State St., 601-949-1900
If you don't know how important music ministry is in church, then you haven't heard the Sanctuary Choir at First Baptist. This 330-member choir leads the congregation in worship every Sunday during the 9 a.m. and 10:30 a.m. services. If you spent the previous night partying and can't make it to Sunday service, you can still catch the choir every Sunday on WJTV. The First Baptist Church choir also presents several concerts each year including "Carols by Candlelight," "The Wonder of Easter" and "Let Freedom Ring," just to name a few. Think your voice should be heard somewhere other than your shower? You can join First Baptist Church sanctuary choir just by attending one worship service and one rehearsal on Wednesday.
—Pamela Hosey
Second: Pinelake Church (6071 Highway 25, Brandon, 601-829-4500) / Third: Galloway United Methodist (305 N. Congress St., 601-353-9691) / Good Showing: Greater Mount Calvary Baptist Church (1400 Robinson St., 601-352-8585); Anderson United Methodist Church (6205 Hanging Moss Road, 601-982-3997); St. Andrews Episcopal Cathedral (305 E. Capitol St., 601-354-1535); Christ United Methodist Church (6000 Old Canton Road, 601-956-6974)
Best Community Activist
Brad "Kamikaze" Franklin
To paraphrase a well-known saying, some people look at the way things are and say, "Someone should do something about that." Other people say, "I'm going to do something about that." Jackson native Brad "Kamikaze" Franklin is one of the latter. He may have first gained his reputation as a hip-hop artist, but he used that platform to become a Renaissance man who's a force to be reckoned with in the pro-Jackson movement. ("ProJack," he calls it.) Whether it's speaking out via his JFP column and blog, bringing young adults together through the Jackson Progressives, a non-profit organization he helped found, or becoming an investor and advocate in the Farish Street redevelopment, he's always working to move the city forward and make us think. And our community will be better as a result.
—Julie Skipper
Second: Jeff Good / Third: Ben Allen / Good Showing: Rims Barber, Fran Leber and Knol Aust
Best High School Band
Murrah High School 1400 Murrah Drive
601-969-6602
Murrah's band takes home top honors again this year, and it's little surprise, considering the band's nickname: "The Sound of Perfection." Under seven-year veteran director Brian Jefferson, the Murrah band consistently receives "Superior" ratings at competitions, and its field show, boasting nearly 200 members plus dancers and a flag squad, is a sight to behold. Perfection sounds big, too, as Belhaven residents who have heard Murrah's brass and drums booming out at night will attest. It provides the perfect neighborhood soundtrack.
—Ward Schaefer
Second: Madison Central High School (1417 Highland Colony Parkway, Madison, 601-856-7121) / Third: Pearl High School (500 Pirate Cove, Pearl, 601-932-7931) / Good Showing: Northwest Rankin High School (5805 Highway 25, Flowood, 601-992-2242); Provine High School (2400 Robinson St., 601-960-5393); Jim Hill High School (2185 Fortune St., 601-960-5354); Clinton High School (401 Arrow Drive, Clinton 601-924-5656)
Best Community Garden
Mynelle Gardens
4736 Clinton Road, 601-960-1894
In the midst of winter, the variant shades of the verdant plants at Mynelle Gardens make me pause. In a bed of mulch surrounded by green, a patch of purple violas makes its presence known. The phrase "dead of winter" has no place at this seven-acre respite. The combination of historic architecture and beautiful pathways relax me, regardless of the cooler temperatures. The garden is operating on winter hours right now, but take an afternoon and reclaim some peace for yourself. It's well worth the low admission of $4.
—Eileen Eady
Second: Tougaloo Rainbow Garden (500 W. County Line Road, 601-977-7700) / Third: Eudora Welty Garden (1119 Pinehurst St., 601-353-7762) / Good Showing: Mississippi Museum of Art (380 S. Lamar St., 601-950-1515); Jackson Medical Mall Garden (Jackson Medical Mall, 350 W. Woodrow Wilson Ave., 601-982-8467).
Best Curmudgeon
Bert Case
WLBT news reporter and anchor Bert Case won Best Curmudgeon, though we're not exactly sure how he qualifies. Yourdictionary.com defines the word "curmudgeon" as a "surly, ill-mannered, bad-tempered person; cantankerous fellow." The Bert Case I know bravely runs down the street from irascible dogs and stands tall as former governors threaten to kick his ass. Case is a likeable fellow, who is quick to point out that you've put on a few pounds, or have less hair than you did 10 years ago. Bless his heart. We wouldn't want him to be any different. —Adam Lynch
Second: Chip Matthews (Owner, Dick & Jane's, 206 Capitol St., 601-592-1000) / Third: Ward 3 Councilman Kenneth Stokes / Good Showing: Vince Falconi (Jackson Free Press Web designer); Gov. Haley Barbour; Hinds County Sheriff Malcolm McMillin
Best Farmer's Market Vendor
Doris Berry
Jackson Farmer's Market, 352 Woodrow Wilson Ave.
Doris Berry has fed Jacksonians fresh produce for a long time. This year Berry and her husband celebrated 60 years of Berry & Cody Produce Co. located at the old Farmer's Market on Woodrow Wilson Avenue. Berry's produce draws customers from all over the state, who are welcomed by large red tomatoes, okra, onions, squash and whatever else is in season. Her friendly smile and passion for fresh homegrown food leave customers more than satisfied.
—Lacey McLaughlin
Second: Brenda Langham (Jackson Farmer's Market, 352 Woodrow Wilson Ave.) Third: Pattie "Hummus Queen" McGee (Mississippi Farmer's Market, 929 High St.) / Good Showing: Sweet Magnolia Farms (Mississippi Farmer's Market, 929 High St.)
Best Columnist
Rick Cleveland, The Clarion-Ledger
Kindhearted. Loyal. Compassionate. Generous. Fun-loving. If you were to feel that the world's falling apart and that meanness is lurking in every corner, just one evening with my friend Rick Cleveland and his family would turn it all around. You can't have terrific kids like Tyler and Annie without doing most things right. Or a fantastic wife like Liz (a phenomenon in her own right). My favorite image of Rick is when he leans in to tell you something amazing that he's seen or heard. As his storytelling becomes more exuberant, his voice lowers and his eyes start dancing, you know you would rather hear him tell about it than experience it yourself. Just like reading his columns, where his sports stories leap off the page and into your heart.
—JoAnne Prichard Morris
Second: Orley Hood (formerly of The Clarion-Ledger) / Third: Donna Ladd (Jackson Free Press) / Good Showing: Sid Salter (The Clarion-Ledger) / Felder Rushing (syndicated); Kamikaze (Jackson Free Press); Sherry Lucas (The Clarion-Ledger); Ronni Mott (Jackson Free Press)
Best Local Cop:
Malcolm McMillin
Malcolm McMillin looms large in Jackson history, having served as Hinds County sheriff since the mid-Pleistocene (actually, since 1991—just kidding, Sheriff!). He's weathered frequent turnover at the Jackson Police Department, even becoming a part of that trend when he did double-duty as Jackson's police chief for a while. But aside from shaving off a mustache—a loss we mourn; he now looks less like the Monopoly Man—McMillin has changed little in all that time, retaining the same gravel-voiced, down-home charisma and constant rattle of southernisms. That's an achievement in itself. Pat yourself on the back, Big Mac Attack. Like Mac, runner-up Lee Vance, JPD's assistant chief, can hold a room, and he's not afraid to laugh at his own jokes. Along with honorable mention Deputy Chief Tyrone Lewis, Vance has also been known to arrest criminals on the weekend, while wearing shorts. And there's nothing quite like seeing Officer Green on her Segway in downtown Jackson; she is the hipster's police officer. Nice tweets, too.
—Ward Schaefer
Second Place: Lee Vance / Third Place: Colendula Green / Good Showing: Tyrone Lewis; John Yeager
Best Local Jewelry Designer
Alex and Lele
1481 Canton Mart Square, Suit C, 601-206-7720
Tucked away in Canton Mart Square is Alex and Lele, a classy yet affordable jewelry boutique. Entering the shop, you find vintage glam presented in a modern way. In the center of the room, relax with girlfriends on the sofas. Tiers and tiers of shiny, dangly chandelier-like earrings—far more intriguing than any wall art—fill the far left wall. To the right, you will find shelves of chunky bracelets, bowls of charm-inspired earrings and suspended necklaces. Dotting the shop are velveteen busts proudly displaying intricate starburst necklaces and well-lit vanity mirrors, perfect for glimpsing how well your new jewelry will complement you. Grab your hipster daughters (or your equally trendy friends) and visit the charming Alex and Lele today.
—Amanda Kittrell
Second: Liz Henry Jewelry (2906 N. State St., Suite 101, 601-362-8337) / Third: LilMcKH Jewelry (200 Commerce St., above Hal & Mal's, 601-259-6461) / Good Showing: Betsy Liles Studio-Art Jewelry (215 W. Jackson St., Ridgeland, 601-607-7741); Marie Designs (7128 Siwell Road, Byram, 601-346-0027); Kelly Marie Jewelry (P.O. Box 5928, Brandon, [e-mail unavailable]); Juniker Jewelry Co., (4500 Interstate 55 N., Suite 116, 601-366-3754)
Best Mechanic
Freeman's Auto Repair Service
847 S. State St., 601-948-3358
When your car is sick, the last thing in the world you need is a mechanic with poor bedside manners. You need to be able to communicate the symptoms, understand the diagnoses and options, and you need to know that you will receive the best possible treatment. Excellent bedside manners are what you will find at Freeman's Auto. Mr. (or if you prefer, Dr.) Freddy Freeman has countless years of experience and knowledge of repairing broken vehicles. He greets his clients personally and takes them through thorough examinations before discussing the prognosis. He never resorts to hastily treating symptoms or charging for unnecessary parts or procedures. Mr. Freeman and his service-oriented staff are honest and forthright with impeccable reputations.
—Beth Smith
Second: Putnam's (4879 N. State St., 601-366-1886) / Third: Tony's Tire and Automotive (5138 North State St. 601-981-2414) / Good Showing: Richard Bradley (Preferred Automotive, 4715 Medgar Evers Blvd., (601-982-3113)
Best Massage Therapist
Martha Howell
Baptist Healthplex 717 Manship St., 601-968-1766
Last year's Best of Jackson third-place winner Martha Howell took top honors for the area's best massage therapist this year. If you've never had the pleasure of getting a massage to ease away those everyday aches and pains, an appointment with Martha is a great introduction. A good massage is ever so much better than taking pain pills, that's for sure. There's just something about a caring human touch that makes everything feel so much better. One session with Martha, and you'll feel those tight spots start melting away, and you'll forget about the stress in your life—at least for a little while.
—Ronni Mott
Second: Tara Richardson (Flowood, 601-936-2103) / Third: Tamar Sharp (NomiSpa, Fairview Inn, 734 Fairview St., 601-948-3429) / Good Showing: Zercon Smith (Mississippi School of Therapeutic Massage, 1935-A Lakeland Drive, 601-362-3624); Marty Bell (Body Benefits, 731 Pear Orchard Road, Suite 30, Ridgeland, 601-991-9904)
Best Nonprofit
Stewpot Community Services
1100 W. Capitol St., 601-353-2759
Since 1981, Stewpot has provided food, clothing, shelter, and care to children, elderly and the disabled in the Jackson metro area. They put faith in action, with several facilities catering to the needs of those less fortunate and providing more than 60,000 meals a year at their community kitchen. It holds its biggest fundraiser of the year, Taste of Mississippi, in March and has raised more than $100,000 from the event in the past. Stewpot uses donations from members of the community for various programs and services including meals, school supplies for after-school programs, shelter for children and transportation for people who needs assistance to get to work. Stewpot provides much-needed services here in Jackson, so let's all continue to support their efforts with donations of time and money.
—ShaWanda Jacome
Second: Community Animal Rescue and Adoption (960 N. Flag Chapel Road, 601-922-7575) / Third: The Junior League of Jackson (805 Riverside Drive, 601-948-2357) / Good Showing: Operation Shoestring (1711 Bailey Ave., Ellen Harris Center, 601-353-6336); The Good Samaritan Center/N.U.T.S. (114 Millsaps Ave., 601-355-6276)
Best Real Estate Agent:
Don Potts
Nix-Tann & Associates, 1776 Lelia Drive, 601-982-7918
Don Potts knows and loves Jackson. A native of the City with Soul, Potts has been a Fondren resident since 1989. His commitment to his home extends from the extremely local to the state level and beyond. Potts helped establish Fondren as a historic district and was a founding member of the Rainbow Co-op. He has also served on the boards of the Mississippi Opera and the Jackson chapter of the Mississippi Sierra Club. With deep roots in the city, it's no wonder Jacksonians trust Potts when it comes to their homes. And, yes, he has a miniature horse in his yard in Fondren; her name is Willow.
—Ward Schaefer
Second: Traci Maloney (Traci Maloney Real Estate, 4243 Brussels Drive, 601-713-3943) / Third: Henry LaRose (Henry LaRose Realtors, 944 Poplar Blvd., 601-949-9999) / Good Showing: Becky Tann (Nix-Tann, 1776 Lelia Drive, 601-982-7918); Lynn Clark (Nix-Tann, 1776 Lelia Drive, 601-9820-7918); Hayley Hayes (The Overby Company, 2630 Ridgewood Road, Suite A, 601-366-8511)
Best Public Figure
Gov. Haley Barbour
Gov. Haley Barbour wins the preference of JFP voters for best public figure as easily as he won the governor's office in the last election. Few governors, outside of Minnesota's former Gov. Jesse Ventura, or South Carolina's former Gov. Mark Sanford, have such a colorful, national presence. The former Republican National Committee chairman—who has taken the political show back on the road as the current head of the Republican Governors Association—routinely fields calls from countless news organizations looking for a Republican take on national politics, and he holds his own behind a microphone, whether it's talking up the problems of health-care reform or dodging questions as to whether former Alaskan Gov. Sarah Palin will make a good president. —Adam Lynch Second: Mayor Harvey Johnson Jr. / Third (tie) Brad "Kamikaze" Franklin; Malcolm McMillin / Good Showing: Ben Allen; Jeff Good; Margaret Barrett-Simon.
Best Veterinarian
Adrian Whittington,
North State Animal & Bird Hospital, 5208 North State St., 601-982-8261
I cannot overstate how important Dr. Whittington and his crew at North State have been in my life over the last nine years. Since I moved back to Jackson, I have rescued some 20 cats. What can I say? They walk up to me, whether in random parking lots or on my back doorstep. I scoop them up, get them poked and prodded and tested and fixed, and find them homes. So when you have the, er, particular talent I have, you have to have a good vet hook-up to fix the strays, not to mention the three home-boys who like to get into fights, and have bizarre accidents like breaking a paw in four places while in the house. North State is an animal hospital that loves animals—and not just cats and dogs—they will work on birds and other injured wild animals that land in your path. They give discounts to folks like Jackson Friends. And when somebody's loose dog killed my rescued tailless Miss S in my front yard in Belhaven, they were loving and gentle and made it seem a bit easier than it really was to let that crazy girl go. Oh, and did I mention they call all animals, no matter how nuts, our "babies"? I love those North Staters. So do my babies.
—Donna Ladd
Second place: Michael Randall, Randall Veterinary Clinic (5919 Terry Road, Byram, 601-371-0895) / Third place: Troy Majure (995 Interstate 20, Frontage Road, 601-354-3622) / Good showing: Dana Ford, Canton Road Veterinary Hospital, 4960 Old Canton Road, 866-832-1832); Amanda Camp, All Creatures Animal Care Center (262 New Mannsdale Road, Madison, 601-856-5333)
Most Under-Appreciated Jacksonian:
Frank Melton and Me/Us (tie)
Sometimes I think you people do this to me on purpose. You are determined that I keep writing about former Mayor Frank Melton, may he rest in peace. You know that he dominated my journalistic life for four years; you know I got to see inside his home (and his head); you know that the whole thing was a crazy roller-coaster ride. But here you come, voting for Melton again.
You know what? I'll take your bait. Most of you know as well as I do that Mr. Melton—I never called him "Frank," remember—was OVER-appreciated, if anything. He was a sad, broken person in many ways with weaknesses that too many people were too willing to exploit for their own gain. He was not a folk hero; he was not a superhero; and he was not a good mayor or crime-fighter. In fact, many people in Jackson used him as a scapegoat: We would just let "Frank" fix all our problems for us so we wouldn't have to; meantime Mr. Melton needed to be getting help, not giving it.
That brings me to the other choice that many of you chose: either "me" (meaning, the person voting, probably as a joke) or "us" (which I think was meant seriously). The truth is: All Jacksonians have been under-appreciated, and by no one more than ourselves. We are living, and working, and uniting in a city that many have left behind, and usually for the worst of reasons. Now that Mr. Melton is gone—and, yes, I will admit missing him and his dog—we have no more excuses for thinking we need someone to save us as a city. Jackson, we have what we need for success. It is you; it is me; it is us.
—Donna Ladd
Second place: Mayor Harvey Johnson Jr. / Third Place: Downtown Jackson Partners President Ben Allen / Good showing: North Midtown Arts Center founder Austin Richardson
Best Professor
Jean Powers
Holmes Community College
Ever been stuck in a job interview and don't know what to say? Jean Powers can help you with that. As a speech and communications professor at Holmes Community College, Powers has been teaching for more than 12 years. Before coming to Holmes Community College, Powers was a business professor for Hinds Community College and Belhaven College. Her students admire her fun attitude and entertaining stories in the classroom. Often they find themselves staying after class while she finishes her latest story. Jean Powers is also a talented yoga instructor, working part-time at Courthouse. Powers also won the 2008 Best College Professor award.
—Kate Brewster
Second: Stan Baldwin (Mississippi College) / Third: James Bowley (Millsaps College) / Good Showing: Bill Brister (Millsaps College); Katie McClendon (University Medical Center)
Best Local Writer
Jill Conner Browne
When I hear the name Jill, I think of the nursery rhyme. When I hear the name Conner, I think of gymnast Bart Conner. When I hear the name Browne, I think singer/songwriter Jackson Browne. How appropriate that together those three names equal the woman who wouldn't let a man bring her to harm; who made her mark through determination and talent; whose way with words won her this category. She of the Sweet Potato Queens, tiaras, fringe, sequins and copious amounts of foam rubber writes from her heart using her head, collects stories, memories, then mixes them with her particular perspective on a plethora of topics, ranging from thighs to love, with the ever-present food and fun. And always she tells it like it was, is and shall be—we women are worthy. And Jackson is lucky to have her as one of our own.
—Lynette Hanson
Second: Ellen Douglas / Third: Beth Kander / Good Showing: Dr. Darden North
Best Public Art
Mississippi Museum of Art 380 S. Lamar St., 601-960-1515
Right now you can walk across the Mississippi Museum of Art's front porch and into "Jim Henson's Fantastic World." A whole lot of Jacksonians think it couldn't get any better than that. Merriam-Webster online defines public as exposed to general view—and the beautiful "new" MMA building is a work of public art in itself. Others favor the giant Obama head at Richard McKey's studio at 3242 N. State St. in Fondren. McKey, a self-confessed pack rat, hates to throw things away if he sees life still there. He transforms those bits and pieces into art displayed at the curb, including the two figures standing in front of Fondren Corner. And how could anyone not appreciate the various vividly rendered catfish in downtown Jackson? Hands down, I'd call them a match for any other city's painted critter campaigns.
—Lynette Hanson
Second: Richard McKey's Obama Head / Third: Richard McKey's Fondren Corner Sculptures / Good Showing: Downtown Jackson Catfish (various artists)
More like this story