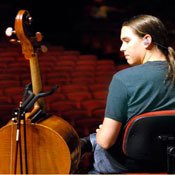 Fifteen-year-old Nathaniel Smith eagerly leads me upstairs to his second-floor bedroom in an expansive ranch house nestled in rural Brandon. Opening a white case, he produces a sleek, antiquated mahogany cello, made in 1896 by Vincentius Postiglione. I ask him to play it, and he smiles sheepishly before delicately playing a busy rhythmic melody, using long sweeps and short chopping motions with his bow. Before completely losing himself in his playing, Smith stops and flashes a wide, toothy grin.
"I like playing some of the more modern stuff, I guess," he says, blushing.
Smith has played the cello since age 5, encouraged by his parents, Wayne and Janelle. Nathaniel is the youngest of three children, all of them musically gifted. His father, a guitarist by hobby, says music has fascinated his son since he was a toddler.
"Anything with a string on it, he could play," Wayne Smith says." He'd just pick up my mandolin and play it all over the place. He got way better than me without any instruction. He passed me quite early."
Nathaniel has professionally toured the United States and Canada since age 12, mostly with acclaimed fiddler Natalie MacMaster. He's also performed with contemporary musical greats like Belá Fleck and Victor Wooten, and composed music for Yo-Yo Ma.
Nathaniel, who grew up homeschooled, says his career as a professional cellist early in life leaves little room for anything else.
"The shows start at 8, something like that," he says, describing a typical tour schedule. "It gets done at like, 10:30. Then you pack up, get on the bus and leave probably around 12:30. Sometimes you stay up until like 3 or 4, go to a truck stop, meet some different people. Then you go to bed, and you wake up at like, 2 for a sound check. Or maybe a shower."
The tall, lanky teenager, sporting a slicked-back black ponytail, shyly recalls his first memories when he discovered his love for music.
"I remember there was like, a plastic guitar that we had, and I was trying to play a song on it like a cello with a violin bow," he says, chuckling. "I thought it was a great song, but I heard it turned out screechy. I've always been immersed in different kinds of music, because my dad played and listened to a lot of the guys I've gotten to play with over the past couple of years."
Wayne Smith says his son may shine as a cellist, but that his true passion is for composing.
"It took me about three or four years to get him to bring an mp3 recorder into the studio with him," he says. Nathaniel had a habit of simply playing and making beautiful music. But without recording it, Nathaniel wasn't able to remember what he had played and couldn't reproduce it.
"I'd just think, oh my gosh, we need to start recording this," his father says.
The young cellist is celebrating the release of two albums: "The Nathaniel Smith Jazz Project Live," and "Arrythmia," which features Nathaniel's solo work. The jazz album features Jackson musicians Allison Jenkins on vocals, Jimmy Jarratt on piano and Tim Avalon on guitar, and includes renditions of timeless Jazz standards. Nathaniel composed the original works on "Arrythmia" just prior to playing and recording them, the senior Smith says.
"He went in the morning with no idea of what he was going to do, and come out that afternoon with a completely developed musical idea," he says. "I'd drop him off, come back in the afternoon and hear what he had done, and I was just blown away."
Ever the proud father, Wayne Smith is quick to note the amount of respect Nathaniel has already received as a professional in the music business. He says the connections his son has made through music have helped the growth of his career, particularly in his current tours with Natalie MacMaster.
"Mark O'Connor, Darol Anger—who used to play for the David Grisman Quartet—and Matt Glaser, who is the string instructor at the Berklee College of Music in Boston, they all know Nathaniel," Wayne Smith says. "And so when Natalie called them, they all referred Natalie to Nathaniel. We flew up to Canada for the audition. She said within 10 minutes, she knew she wanted him. And so, for the last three years, he's been with her."
This month and next, Nathaniel will play small tours throughout the South and the East Coast with MacMaster, child prodigy violinist Sam Weiser and Grammy Nominee Sarah Jarosz. Smith says constantly touring and traveling can take its toll, but he wouldn't trade it for the world.
"There was one Canadian tour, where it was like a flight every day after a show. It gets really old being in airports all the time, I guess," Smith says, laughing. "It's still just, like, awesome. And a lot of people don't get to do this who want to. And I really enjoy it in the long run—for sure."
To see Nathaniel's upcoming performances or buy his new CDs visit http://www.nathanielsmithcello.com.
More like this story
More stories by this author