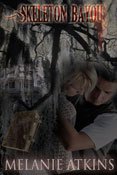 As a young girl, Mississippi author Melanie Atkins grew up listening to the tall tales that embody the oral tradition of the Deep South. Writing was her passion, and she scribbled stories about her feline pets. Now she is a multi-format author blending suspense and romance into popular works.
Her newest book, "Skeleton Bayou" (Wild Rose Press, 2009, $14.99), is set in rural Louisiana and follows the story of Savannah Love, an emotionally and physically abused woman who flees the imprisoning life of her cop husband. After hiding for seven months, she turns up at her family home in Louisiana: Mossy Oak. There she meets Mack O'Malley, a former cop turned handyman, and sparks fly.
The drama isn't just in the book, though. Another publisher originally contracted to print "Skeleton Bayou," but ended up filing bankruptcy. Atkins had to fight to get the rights back. The Wild Rose Press offered her a contract on the book last year.
Atkins lives in the South and is an avid fan of crime dramas. Locally she is a member of the Mississippi Author's Guild and the Byram Writer's Group.
Atkins is also the contest coordinator for the Magnolia State Romance Writers.
Southern writer Melanie Atkins will sign "Skeleton Bayou" at Lemuria Books Feb. 13 at 1 p.m. You can read an excerpt on the Wild Rose Press Web site at http://www.thewildrosepress.com. "Skeleton Bayou" is also available in e-book formats.
More like this story
More stories by this author