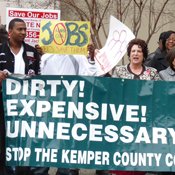 A crowd of 100 piled into the chambers of the Mississippi Public Service Commission this morning, offering a variety of opinions in support or opposition to a proposed $2.4 billion coal gasification plant in Kemper County.
The commission held a week-long hearing on the feasibility of a new coal plant to supply the state's growing power needs, ending with a public hearing today.
Mississippi Sierra Club Executive Director Louie Miller said the Mississippi Public Service Commissioners learned this week about an extra $189 million price for the construction of the water supply for the plant, which will come from the city of Meridian. Miller said he feared that the cost was not included in the $2.4 billion estimate, bouncing the full price up to nearly $2.6 billion.
"They uncovered that little extra tidbit during the course of the hearings earlier this week, and there's no telling how many more costs they're keeping away. Mississippi Power still hasn't answered our question as to exactly how much our rates will go up if they build this thing," Miller said. "The ratepayers are being asked to sign a blank check for this monstrosity."
Mississippi Power spokeswoman Cindy Duvall said the $189 million cost for the water supply was indeed included in the $2.4 billion estimated cost, and told reporters that Mississippi Power needs to diversify away from natural gas, because of the volatility of natural gas prices.
Other supporters argued that the state needs the extra power from the plant in preparation for a growing economy.
"As our national economy recovers we've got to be in a place to grow our economic development opportunities," said Mississippi Economic Council President Blake Wilson, adding that the plant would "put Mississippi on the map as a technology leader," and would bring "worldwide attention" to the state as the home of the first Integrated Gasification Combined-Cycle coal plant.
Other speakers were not so approving.
"It's dirty, it's expensive, and foremost, it's unnecessary," Miller said. "We've got people on the coast who are in opposition to this plant, and neighbors of the plant, who are supposed to be the beneficiaries of the new jobs the plant provides, who oppose this thing."
Mississippi NAACP President Derrick Johnson said the NAACP opposed the financing of the plant because of rate increases Mississippi Power may impose on its customers.
"There is no knowledge on how much rates will go up and there are no guarantees that a single job will be given to a Mississippians," Johnson said, referring to the estimated 200 jobs the plant will create.
Previous Comments
ID

155793

Comment

If Derrick Johnson and Louie Miller are worried about the increase of the rates to Mississippians (which is quite noble, mind you), then they better be protesting against the current Cap and Trade bill as well. Everyone from the CBO, to Congress, to Obama's staff itself has said this will increase rates upwards of $800 annually for a family of 4. I must've missed the protests about this bill by the two organizations represented by these two men.

Author

RobbieR

Date

2010-02-06T21:21:09-06:00
More like this story