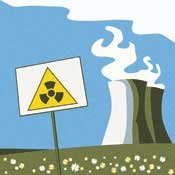 Entergy Mississippi Inc. is requesting $51 million in reimbursements over a stalled nuclear-reactor project at its Grand Gulf nuclear-power plant.
Entergy filed an application with the Mississippi Public Service Commission in October, which, on approval, would allow the company to charge ratepayers for costs it incurred while unsuccessfully trying to construct Grand Gulf Unit 3 in Claiborne County.
"The commission's approval of the accounting treatment and other relief sought herein simply preserves the company's right to seek at some future time recovery of prudently incurred costs and expenses incurred and to be incurred related to the development (of) Grand Gulf 3," the Oct. 29 filing stated.
The company ran up $51 million in planning, evaluation and monitoring fees while trying to develop a Westinghouse reactor, including $27.8 million in specific site costs, $21.8 million in generic project development and $1.5 million in company-specific costs.
Entergy selected a GE-Hitachi design for the new reactor, but the U.S. Department of Energy ranked Entergy's application at No. 7 in terms of importance, in a race where only projects ranking at third or fourth place would have access to the federal government's
$18.5 billion cap on loan guarantees, according to testimony from Entergy's Vice President of Nuclear Business Development Kenneth Hughey. He said Entergy failed to reach a contract with GE-Hitachi due to cost overruns during the planning phase.
"The last estimate GE-Hitachi provided, in late 2008, was approximately 147 percent higher than their mid-2006 estimates," Hughey testified, adding that Entergy requested the Nuclear Regulatory Commission, which approves the construction of every nuclear plant, to suspend its consideration for the Grand Gulf 3 project Jan. 9, 2009.
After the company decided to suspend its license request for the Grand Gulf expansion and a second reactor in Louisiana, Entergy Corp. Chief Executive Wayne Leonard said in May that building nuclear-power plants was a risk that "utilities do not want to take."
Leonard told Reuters that to make nuclear affordable for Entergy, he would have see "double-digit natural-gas prices" and that Congress would have to set a price on carbon emitted by utility plants.
The American Power Act—an energy proposal that the GOP helped shoot down in 2010—included cap-and-trade legislation that would have put a limit on the amount of carbon a power company can put into the atmosphere. To avoid reaching that cap, a carbon-emitting company could have purchased carbon permits from another power-producing company that has earned permits by investing in renewable or non-carbon-producing sources such as solar or nuclear technology.
Despite the death of cap-and-trade legislation that would have made the plant affordable, Entergy still considers the project "to be in its early stages," and describes its development as "proceeding at a measured pace." Entergy says it will seek to "preserve existing nuclear site options ... so as to be able to continue to consider the project as a feasible option ... for the (year) 2024 period and beyond."
As of June 30, 2010, however, Entergy Mississippi incurred approximately
$51.1 million, and intends to hold open the option of charging ratepayers for current and future costs in the development of the plant.
The company proposes creation of an Allowance for Funds Used During Construction account, which defers the costs, but makes recovery possible in the future. The account does not produce revenue for the company but will add to the total capitalized cost of the plant, allowing Entergy to get a return on its investment if the plant is ever included in the rate base.
Entergy said in its October filing that it is not currently seeking money to cover the lost investment, including "any increase in rates or any change in its present rate schedules now on file with the (Mississippi Public Service) Commission."
However, Mississippi Sierra Club Director Louie Miller said the company should not look for ratepayers to cover the failed start-up, not even in the future. "If anybody should be paying for Entergy's failure to build this thing, it ought to be Entergy stockholders, not rate-payers who will never see this thing working," Miller said. "It was their fault they went with Hitachi, not ours. Other power companies got their plans together, so why do we have to pay for this failure?
Miller opposes expanding nuclear power in the state until utility companies figure out "where to put all the nuclear waste," which stays toxic for thousands of years. Miller compared the cost to the Mississippi Beef Processors plant fiasco, which cost Mississippi taxpayers about $55 million after the plant failed within weeks of opening in 2004.
"We've made a lot of political hay out of the beef plant, and this is like another beef plant," Miller said. "At least they built the beef plant. This, they're not even going to build, and they want us to cover it."
Entergy Mississippi Communications Manager Joey Lee pointed out that nuclear-based electricity is one of the cheapest forms of electricity available, after getting past the construction costs. He said the company's request before the PSC was merely "a formality," to the keep the project alive for a future construction date.
"Nuclear is the most reasonably-priced fuel out there, so it's important to keep this option open for the customers in order to keep the rates as low as we possibly can," Lee said.
Previous Comments
ID

161555

Comment

Since Entergy is always trying to get the ratepayers tipsy for capital expenditures before consuming the energy they may provide it seems to me that the ratepayers should get their fair share of the stock oor failing that we Ned an alternative to Entergy as provider of our electricity.

Author

jade

Date

2011-01-11T21:59:35-06:00
More like this story
More stories by this author