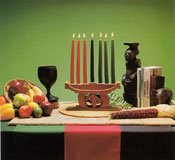 The community is invited to celebrate Kwanzaa this week at the Medgar Evers Community Center (3159 Edwards Ave.)
The week long holiday honoring African American culture began last night, and continues through Saturday. Kwanzaa celebrates seven principles: unity, self-determination, collective work and responsibility, cooperative economics, purpose, creativity and faith.
The celebration is 6 p.m. to 9 p.m. every night through Jan. 1, and includes panel discussions, entertainment, presentations and literature. Refreshments will be served.