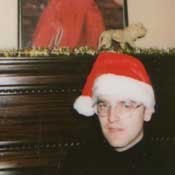 When Jackson native Dent May returns home for Martin's annual Christmas show Dec. 25, he'll trade his magnificent ukulele for synths and drum machines as he croons new and original songs.
May, who lives in Taylor, Miss., near Oxford, released "The Good Feeling Music of Dent May, and his Magnificent Ukulele" in 2009 combining kitschy lyrics, '60s pop melodies and '50s serenades. Since then, May has toured extensively and released a 7-inch vinyl EP featuring "That Feeling" and "Eastover Wives". He is working on a new album for his label, Paw Tracks, and planning an April tour in South America.
Just in time for Christmas, May released the song "Holiday Face," available for a free download on his website. May says he recently retired his ukulele for songs that have more of an R&B and disco vibe.
May, who works at Square Books in Oxford, will soon move into a 5,000 square-foot house along with the band Dead Gaze, where the musicians plan to record music and host house shows. May and the band are all members of Cats Purring, a collective of friends who make art and call themselves a "North Mississippi Infotainment Cult."
See May perform at Martin's Lounge (214 S. State St.) at Martin's annual Christmas Show Dec. 25 at 10 p.m. along with Mr. Kid and The Brothers Fox.
Read "College Town Boy" for previous JFP coverage of May.