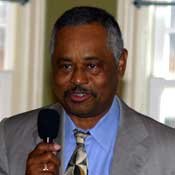 Jackson business owner Socrates Garrett encouraged community members to work across political and racial divides during a forum at Koininia Coffee House this morning.
Garrett, who employs 93 people in his contracting company, Garrett Enterprises, said he is the "best salesman in the world," but needed more than sales expertise to be successful in the business community.
"It became clear that there's something out in this community called goodwill," Garrett told a crowd of about 50. "There's something out here in this world called political capital and favor. You don't acquire those things overnight, but without those things you can't open any door."
The Madison County native, who also owns the Mississippi Link Newspaper, said he also needed to find a way to make inroads into politics, because the majority of his clients were Republicans.
"I don't know if you've noticed it or not, but Mississippi has been characterized as a red state," he said. "It's going to be red for a long time. So if I'm going to operate in this red state I'm going to have to have access. So I began to reach out across party lines."
Garrett, 64, said he stepped beyond the traditional practice of the state's African American community and supported Republican Gov. Haley Barbour in the last election, arguing that the governor and his cadre of power brokers made possible new projects for his business.
Garrett's previously worked as salesman for Xerox, and said the company earned trust in the community by investing and sponsoring programs, giving scholarships and supporting the Salvation Army, among other things.
"All that enabled me, as a marketing person, to walk in the door and sell copier machines. But as a salesperson, I didn't realize that made any difference," he said. "So over the next 30 years, I've learned a few things, and I am again the best marketing person in the state of Mississippi," he declared, tongue in cheek.
Garrett said he makes a point to keep his face visible, funding local sports teams, serving on boards and patronizing local causes. He said his privately-owned newspaper, The Mississippi Link, is another tool he uses to build social capital by reporting the community's interests, be it politics or obituaries.
He added that he would have a hard time placing a vote in the next presidential election if the election pitted President Barack Obama against Barbour, who is rumored to be considering a Republican presidential run.
"I love Barack Obama," Garrett said. "I love what he represents. I got a life-sized picture of him framed and hanging in my house. But that would not be an easy decision to make."
Previous Comments
ID

161178

Comment

I don't know Mr. Garrett, and I am sure he is a nice guy, but I find it hard to believe that one would find it hard to choose between Haley Barbour and Barack Obama for President. If you love Pres. Obama's politics, I think you would find it hard to cast a vote for Haley Barbour, and vice versa. Unless you owe some political favors, the choice is a no brainer, either way.

Author

Renaldo Bryant

Date

2010-12-03T14:51:59-06:00
ID

161183

Comment

Money, Money, Moonneey, MMM000NNNEEEYYY.

Author

Walt

Date

2010-12-03T17:29:36-06:00
ID

161189

Comment

Ditto to Blackwatch. I know Mr Garrett and he is known for straddling the fence. Therefore I do not find it hard to believe his statement, And Walt, you are so right. Money, money, money is what will probably cause him to make his decision.

Author

wellington

Date

2010-12-03T22:51:24-06:00
More like this story
More stories by this author