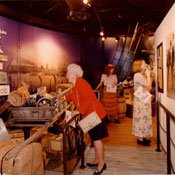 Cornfields and pecan trees rushed by as I drove down Highway 18 to tour the Museum of the Southern Jewish Experience in Utica. After making a couple of left turns and bumping down a gravelly road, I wondered if I was headed in the right direction. The only things I passed other than rolling fields were a couple of Baptist Churches. Finally, I rolled to a stop in front of an automatic gate, and after explaining to an Israeli guard that I was there to see the "Alsace to America" exhibit, he waved me through.
"Odd," I thought. "I just spoke to an Israeli in the middle of Utica, Mississippi."
The museum sits on 300 acres of land on the site of what also serves as a camp for Jewish youth throughout the South. Rob Friedman, a Vanderbilt University student doing an internship with the museum, greeted me at the door and served as my guide. Walking in the door, I was struck by a huge map displaying the Mississippi River and the cities and states surrounding it in the South. The map contains sites of still active Jewish communities and those that no longer exist. I had no idea so many Jewish populations existed in Mississippi.
During the 18th century, Jews from Alsace, France, began emigrating to the United States, entering through the port of New Orleans. The map shows how Jewish communities sprang up all along the Mississippi River and branched out throughout the state including Rolling Fork and Clarksdale. The "Alsace to America" exhibit explains that journey.
Suffering persecution in Alsace and with promises of better lives in the U.S., Jews came to the South in droves that peaked in the 1840s, with another surge when Germans took over Alsace in the early 1900s. The pastoral land and the Mississippi River, much like the Rhine, reminded Jews of their homeland, Alsace.
The exhibit illustrates how Jews felt strongly about preserving their culture. Near the beginning of the exhibit, a small trunk displays items that a typical Jewish family would have brought with them: a prayer shawl, a Kiddush cup and other Judaica items showing how important their religious heritage was. After walking down a raised wooden pathway with rope railing, I caught the scent of aged wood, and I realized that I was walking down a dock much like Jews who got off of ships to enter this country. I held my breath with anticipation, much like they might have done.
A photograph of a Jewish family in expensive American clothes greeted me at the bottom of the dock. Friedman explained that due to the immigrants' desire to show they were a success in the new world, photographers would wait for them at the end of the pier, ready with clothes that they could borrow, and for a price, they could send back a snapshot of affluence to their families in Alsace.
Continuing along the tour, a peddler's cart sits ready to be hitched to a horse. Many Jews made their living as peddlers, hawking their wares up and down the Mississippi, often eventually establishing successful retail businesses. Their names became synonymous with ethical businesses practices and, in many cases, served as advertising for their businesses.
One photograph depicts a crowd gathered in front of a general store. The owner of the store, Moshe Eli Rosenzweig, came to this country in the late 1800s at 15 years old with $5 in his pocket. He worked his way up from being a peddler to opening a store in Lake Village, Ark., in 1910. Jews came to the Deep South, where poverty was widespread, with nothing. They survived, and in some cases, thrived.
The heart of this exhibit lies in the struggle that so many Jews have faced and their ability to overcome hardship while maintaining their culture. The exhibit made me respect the dedication that has gone into preserving Jewish culture, especially when considering my own Irish ancestry that no one in my family knows anything about.
I was a little disappointed that the exhibit did not go into more detail. A blurb that told of some 5,000 Jews who served in the Confederate army, for example, fascinated me, but only a few sentences went into this captivating piece of history. The tour also briefly touches on discrimination against Jews in the South but only gives a brief account of when and how they were discriminated against.
Despite the limited details, this exhibit is something everyone in the South should experience. Though traces of Jewish life surround us, we often don't notice or ignore them. As Mississippians, we have so many diverse cultures in our midst, and we should embrace them.
"Alsace to America" is an ongoing exhibit at the Museum of the Southern Jewish Experience, 3863 Morrison Road, Utica, Miss. Admission is $5 for adults and $4 for children or groups of 15 or more; the museum is open by appointment only. Call 601-362-6357 to schedule a tour.
Previous Comments
ID

159066

Comment

FYI - Germany retook the Alsace region from France in 1870 after the Franco-Prussian war, rather than the early 1900's as the article states.

Author

QB

Date

2010-08-04T10:40:22-06:00
More like this story
More stories by this author
Like independent media outlets around the world, the Jackson Free Press works hard to produce important content on a limited budget. We'd love your help! Become a JFP VIP member today and/or donate to our journalism fund. Thanks for considering a JFP VIP membership or one-time support.