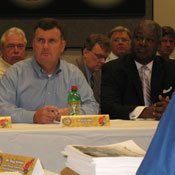 This week the U.S. Army Corps of Engineers seemed to—finally and forcefully—make clear its stance on flood management for the Pearl River, repeating what the Jackson Free Press has been reporting for months now. The Corps has already made its formal recommendation of a comprehensive levees plan to the Rankin-Hinds Pearl River Flood and Drainage Control District Levee Board.
In a meeting this week, Chief of Project Management Doug Kamien strongly suggested that the Levee Board avoid any plans that "impound" the Pearl River, including two different "lakes" plans that the Levee Board has been kicking around for a number of years.
The Levee Board has a few different options. It could make one of the Lakes plans—either the plan put forward by John McGowan called "Two Lakes" or a compromise plan the board temporarily approved a few years ago called the "Lower Lake" plan—its "locally preferred option." That would force the Corps to study the plans again, adding four years and $4 million. The locally preferred option, if approved under the Water Resources Development Act of 2007, would then need funding gaps filled using local dollars.
Or the Levee Board can accept the Corps recommendation and move forward with a $1 million, 18-month finalization of the levee plan.
McGowan has said that his plan has never gotten a solid hearing, claiming that changes when it was studied under the name "Lefleur's Lakes" ballooned the cost estimate by hundreds of millions of dollars.
Kamien, however, made clear that the cost difference isn't the biggest problem with any "lakes" plan. To him, any plan that impounds the river would require environmental mitigation that is not in the federal government's interest.
Some Lakes proponents say that the levees will offer less than 100 percent effectiveness in the case of a catastrophic flood. We note that levees would be 80 percent more effective than what we have today. Up-stream dry dams could be added to those levees to make them more effective if the political will to help the Jackson metro ever reaches the state Legislature.
In a bright spot during the meeting with Kamien this week, Jackson Mayor Harvey Johnson asked about possibilities for "greening" the levees and making them available as public parks.
We encourage this thinking. Public access, new parks and trails along the Pearl's banks would be an enormous economic-development return on investment, in part because it would help us recruit and retain the active young professionals. We already have a "motor-boat lake" up at the rez; let's get a "canoe-and-kayak" dynamic going strong on the Pearl in Jackson.
We encourage the Levee Board to accept the Army Corps of Engineers' recommendation. It's time we take the next step toward flood management.