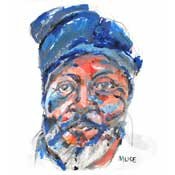 Twenty years ago patients at the Mississippi State Hospital held their first art exhibit, displaying their paintings, ceramics, drawings and mixed-media work. Continuing that tradition, the 20th annual Serendipity art exhibit takes place today.
The public is invited to participate in a silent auction from 11:30 a.m. to 7 p.m. today at MSH in Building 71 at the hospital's Whitfield Campus, located about 15 miles south of Jackson. The proceeds will to the patients through an account setup by the hospital.
Art Services Director Evelyn Bates started the art show in 1989, and has seen its popularity grow since. "We have some long-term patients in the nursing home that work all year, and we chose the best of their work," Bates told the Jackson Free Press. "We have some that have participated for a number of years, and it is interesting to see how they have grown as artist,"
Bates said patients currently have 107 art pieces and 65 ceramics for auction.
Founded in 1855, MSH is a facility of the state Department of Mental Health, providing assistance to patients suffering from mental illness or chemical dependency.
Bates said that the art is one of the best therapies for the patients.
"This is our day to honor them and their hard work," she says "We think art is such a good part of their programming here. We call it non-verbal therapy."
For more information, contact MSH at 601-351-8018. Auction winners can pay for their art work with cash or check.
More like this story
More stories by this author