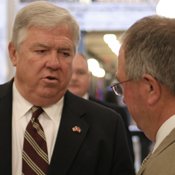 Mississippi Governor Haley Barbour's support for an aerospace jobs initiative among Gulf Coast states puts him at odds, with a familiar opponent: labor unions. On Oct. 26, Barbour joined his fellow Republican governors from Louisiana and Alabama in announcing the Aerospace Alliance, a non-profit collaboration between the three states aimed at bringing aerospace manufacturing and supplier jobs to the Gulf Coast.
The Alliance's first goal will be securing a federal contract to manufacture the KC-45 tanker airplane for the U.S. Air Force in Mobile, Ala. A year ago that contract seemed like a sure thing. The U.S. Department of Defense initially awarded the $40 billion to $100 billion contract to EADS (European Aeronautic Defense and Space—the parent company for Airbus) and Northrop Grumman in February 2008. U.S.-based Boeing Corporation protested the award, arguing that the administration had not taken account of EADS' government subsidies, and in Sept. 2008, Defense Secretary Robert Gates, then working in the Bush Administration revoked the award and left the matter for the incoming administration.
Bob Baugh, executive director of the AFL-CIO's Industrial Union Council, said that the Aerospace Alliance's support for EADS runs counter to the best interests of the U.S. economy.
"The obvious benefit is if Boeing wins the contract, it's going to create a hell of a lot more jobs and retain more jobs in the U.S. economy that pay excellent wages and benefits," Baugh said. "I can't say that we know every part will be produced (in the U.S.), but we do know their primary supply chain's here. In fact we're watching work that they were doing overseas on the 787 now being brought back. One of the parts they're making for the 787 is now going to be produced in the Carolinas. Their outsourcing chain got too long."
By contrast, Baugh said, awarding to the KC-45 contract to EADS and Northrop Grumman would ensure far fewer, low-quality jobs, because of the companies' foreign ownership.
In an Oct. 26 statement accompanying the alliance announcement, Barbour said that awarding the KC-45 contract to Mobile would bring 48,000 direct and indirect jobs to the Gulf Coast region.
Speaking in Mobile on Oct. 26 via satellite, Barbour touted the Alliance states' relative lack of unions. "You don't have to worry about (workers) being out on strike when America needs them," he noted, according to the Mobile Press-Register.
Baugh fired back that Mississippi's union-unfriendly, "right-to-work" tradition was nothing to be proud of.
"I didn't think a low-wage environment with no benefits was a badge of honor," Baugh said.
Previous Comments
ID

152976

Comment

I'm a little lost there. Barbour's supporting the EADS bunch, rather than Boeing? Baugh's upset because he's pro-union, and Boeing getting the work would mean more profit for the Union. I fail to see the problem here, then.

Author

Ironghost

Date

2009-10-30T12:56:16-06:00
ID

152977

Comment

Not "profit for the union" Iron -- the argument is that the contract would be fully in American hands, with the lionshare of the skilled work done by American labor. I know you're not likely to agree with the union because -- land sakes, it's a union! -- but I don't quite understand why it's no longer in vogue for some conservatives to be pro-American if that means that American workers benefit instead of just shareholders. I don't quite get the ethic.

Author

Todd Stauffer

Date

2009-10-30T13:12:08-06:00
ID

152998

Comment

I'm not against keeping the production in American hands, given the way the world still thinks of us. I'm against padding Union pockets, really. Get the unions to commit to having cost-effective workers and more people might be happier to see them. Otherwise, it's silly to be against Barbour's effort to bring any jobs to Mississippi. Union or not, the jobs would be very welcome.

Author

Ironghost

Date

2009-11-02T10:43:24-06:00
ID

153006

Comment

Cost effective in what?

Author

golden eagle

Date

2009-11-02T14:38:13-06:00
ID

153013

Comment

Otherwise, it's silly to be against Barbour's effort to bring any jobs to Mississippi. Union or not, the jobs would be very welcome. I'd prefer to see the jobs for an Air Force jet go to a company with American ownership. Boeing, for ALL of it's problems (and they are legion) is based in the U.S. and invests in U.S. plants, communities, universities, etc. I think it's "silly" to applaud Haley for bringing lower wage jobs to the state and keeping out the unions all in the name of increased profits for a European (and, last I checked, partially state-owned) conglomerate. And I love the "cost-effective workers" line. I don't know about you, but I gotta figure it doesn't hurt to have well-paid people putting together our military planes. Northrop Grumman's CEO made $21.6 million last year, a 7% gain in salary after posting a $1.2b loss; Boeing's CEO made $16.6 million on $200 million in losses. Why not a little outrage in that direction?

Author

Todd Stauffer

Date

2009-11-02T16:15:43-06:00
More like this story
More stories by this author