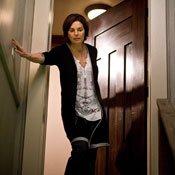 When Sela Ward stars in a motion picture or a television show and has the freedom to use the full range of her talent, you certainly know that you've seen something exquisite. The Meridian native, a former cheerleader for the University of Alabama football team and homecoming queen there, possesses a mystique that crosses the gender line. Men think she's sexy and seductive. Women think she's accessible and direct.
No other actress in Hollywood is quite like Ward, 53, who has built her reputation in challenging roles such as the free-spirited Teddy Reed in "Sisters," the divorced soccer mom Lily in "Once and Again" and Stacy, the lawyer, former lover and muse to curmudgeon Dr. Gregory House in "House, M.D." On film, she has held her own working with accomplished leading men, which include Harrison Ford ("The Fugitive"), Timothy Dalton ("The Reef") and Kevin Costner ("The Guardian"). She has won two Emmy Awards, one for lead actress in a drama series for her work in "Sisters" and the other for "Once and Again." She's also been awarded a Golden Globe for "Once and Again."
Ward never does what's expected, and she's never sloppy or over-expressive. She holds us by the quiet power of her concentration. Each year, Ward gets more captivating and appealing on the little or big screen, and despite her success, she has never lost her sense of self in the ubiquitous nature of stardom that ruins so many talented actors.
"Being raised in Mississippi has kept me really grounded. I can't speak to other parts of the country, but southern values and nurturing has helped in a crazy place (like) Los Angeles," Ward said in a telephone interview from New York, where she was promoting her new film, "The Stepfather," and attending the premiere at the School of Visual Arts theater that evening. (In case you were wondering, I did ask Ward about her ensemble for the red carpet premiere. "It's a great Prada dress, in black," Ward said.) 
When I first heard that Ward was in "The Stepfather," a remake of the 1987 cult horror film, I was mystified. Why?  Zimbio.com voted her one of the sexiest women over 50; she has options and has turned down some great roles, so what drew her to this suspense thriller?
"The director, Nelson McCormick, asked me to lunch to discuss the project. My main concern was if it was going to be one of those cheesy straight-to-video movies," Ward said. "I hadn't dealt in the suspense-thriller genre."
McCormick, whose last film was "Prom Night," a remake of sorts of the 1980s thriller starring Jamie Lee Curtis and Leslie Nielsen, reassured Ward. "He told me I would be pleasantly surprised," Ward said.
In "The Stepfather," Ward plays Susan, a divorced, vulnerable single parent who makes some bad judgment calls. "Mom brings home a new guy, falls in loves. She's going to get married, and things are going to be normal again," Ward said.
With over 50 percent of families divorced, Susan's character resonates with young audience members who may have a single mom juggling work, family and a personal life, Ward said. Too bad the guy Susan brings home is not Mr. Wonderful, and Susan's blindness to the odd nature of her new beau (Dylan Walsh) endangers the safety of her two children and herself. Back from military school, Susan's son Michael (Penn Badgley) discovers the sickening truth.
Ward chose to play Susan because it was against type. "My biggest challenge was screaming bloody murder at a rubber saw. Southern women do not scream," Ward said. She adds that her co-star Dylan Walsh (Dr. Sean McNamara in "Nip/Tuck") "was so much fun. We laughed most of the time. He was a great bad guy."
Even Ward's effervescent personality and acting skills may not be enough to pull "The Stepfather" from put downs. Underutilized in this film, Ward can only do so much.
Ward doesn't wear out her welcome when she has a good role. We can never get enough of her. With her moxie, talent and glamorous looks, I look forward to seeing her in a film where she's a femme fatale defying the Hollywood boundaries that box women over 40 in mom regalia. That would definitely be something to cheer about. 
Spoiler to Ole Miss fans: The last time Ward was in Mississippi was at the Ole Miss v. Alabama game in Oxford. This game had the largest crowd in Mississippi history, and Ward was part of that crowd sitting ... ahem ... on the Alabama side. While Ward supported her alma mater, her 15-year-old son Austin rooted for Ole Miss.
More like this story